How expensive is FreeBalance software? That's a question we answered earlier this year in response to some remarkably expensive ERP implementations in county and city governments in the United States. It is  remarkable, that with Total Cost of Ownership (TCO) in mind, most FreeBalance national-level customers pay less for similar functionality than many cities and counties in the United States.
Many observers want to know how much FreeBalance software costs. That's a difficult answer because of the wide range of scope among implementations. The cost of enterprise software licenses or subscriptions can represent anything between 15% and 30% of the up-front cost. We use the benchmark comparison of ERP software
Some governments publish prices quoted by vendors. This transparent procurement approach enables companies to become more price competitive. Most of these tenders are for the total cost over a 5 year period including implementation, training, maintenance, middleware and some hardware (typically servers). These are turnkey solutions that often include multiple providers.
We've updated our graph showing our total prices compared to Tier 1 ERP vendors Oracle and SAP, as of the end of 2016.
This price comparison does not include:
Training and retention costs post implementation
Version upgrade costs
Vendor conference attendance
Changes to configuration and customization
There is significant evidence to show that costs for maintaining and supporting Tier 1 ERP systems is far more expensive than the FreeBalance alternative. That's because of the configuration approach used by FreeBalance that enables progressive activation. So, the 15 year TCO comparison is likely to show that Tier 1 ERP costs 3 to 10 times the cost of FreeBalance.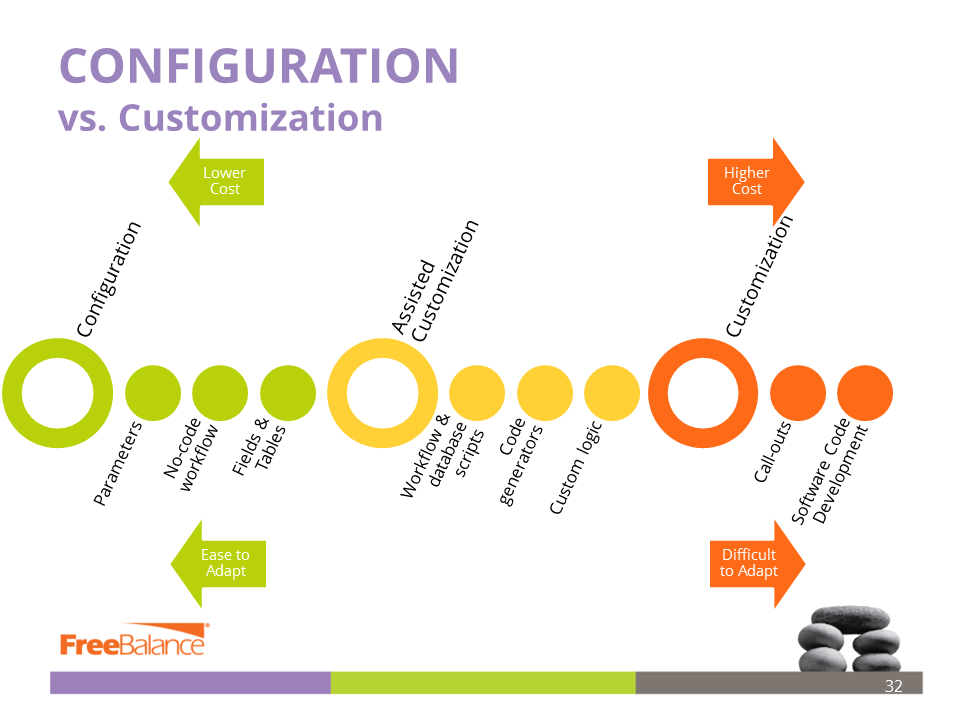 The following two tabs change content below.
Doug is responsible for identifying new global markets, new technologies and trends, and new and enhanced internal processes. Doug leads a cross-functional international team that is responsible for developing product prototypes and innovative go-to-market strategies.
Latest posts by Doug Hadden (see all)