Government Resource Planning Is Not the Same As Enterprise Resource Planning
FreeBalance is a provider of Commercial Off-the-Shelf (COTS) Government Resource Planning (GRP) application and platform software. It's enterprise-class and designed to support whole-of-government implementations. It's not Enterprise Resource Planning (ERP), although the FreeBalance Accountability Suite™ is often categorized as such. Although our software technically meets 3/4 of the ERP definition, it's the other 1/4 that is important. That's because FreeBalance software does not suffer from the ERP adaptability problem for government. It doesn't help that major ERP vendors claim to be GRP.
What's the Difference Between GRP and ERP?
This is how to distinguish COTS GRP from COTS ERP:
GRP was designed exclusively for government and the software is applicable only in the public sector while ERP was initially designed for the private sector and is sold across many vertical markets, or industries, including government
GRP software was designed with budget awareness built in for all modules with integrated commitment accounting while ERP has commitment accounting added and most modules outside financials are not budget aware
GRP software, by the design focused on government only, leverages configuration as the primary mechanism of meeting government needs while ERP leverages code customization to meet unique government needs
GRP software vendors use government and public-sector terminology while ERP vendors use private sector terminology like "customers" and "supply chain management"
GRP software vendors design open systems for financial sustainability, while ERP vendors tend to leverage legacy technology and proprietary systems to lock governments into their software
GRP software vendors optimize implementation processes for the context of governments while ERP vendors rely on 3rd parties for implementations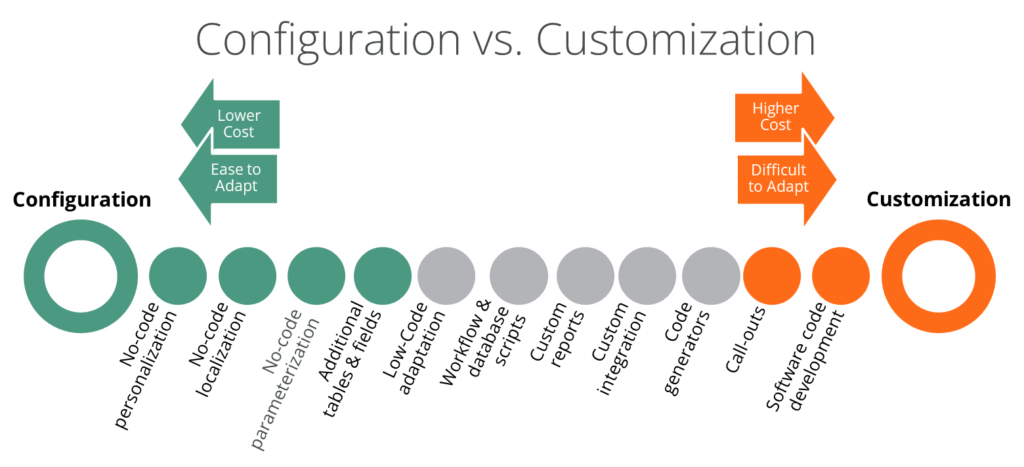 Overall total cost is reduced thanks to the configuration approach.
What is the Implication of GRP vs. ERP to Governments?
The value of GRP compared to ERP for governments include:
Faster time to implementation because of the configuration approach
Higher adaptability to government reform and modernization over time thanks to the "progressive activation" configuration nature of GRP, which includes multiple year Charts of Accounts
Lower middleware and equipment costs thanks to open systems that can support the widest range of open source and proprietary underlying software
Lower costs for customization, should it be necessary, thanks to the use of open and non-proprietary programming languages, and the ability to reuse government-specific "business components" (that we call "government entities")
Future government-specific feature sets because of the 100% focus on the public sector market, participation in government and PFM technology events, and government research focus
Willingness to adapt software to meet emerging customer requirements, rather than treating feature requests within a lottery of requirements from many industries
Ease of use because of the government-specific design and ease of configuration, that reduces errors and training costs
There's much more to the Total Cost of Ownership (TCO) than the cost of software licenses
It is our view that true GRP systems are more financially sustainable than ERP systems or custom-developed and have all the positive characteristics of ERP – COTS quality, new releases and custom-developed (platform reuse). Quite simply, open systems are critical for long-term financial sustainability
Topics