FreeBalance Customers Outperform Global Average
The latest World Happiness Report (WHR) shows that FreeBalance customers* outperform the global average improvement in happiness – or wellbeing as we prefer to call it. These scores are multi-faceted but ultimately largely dependent on government effectiveness.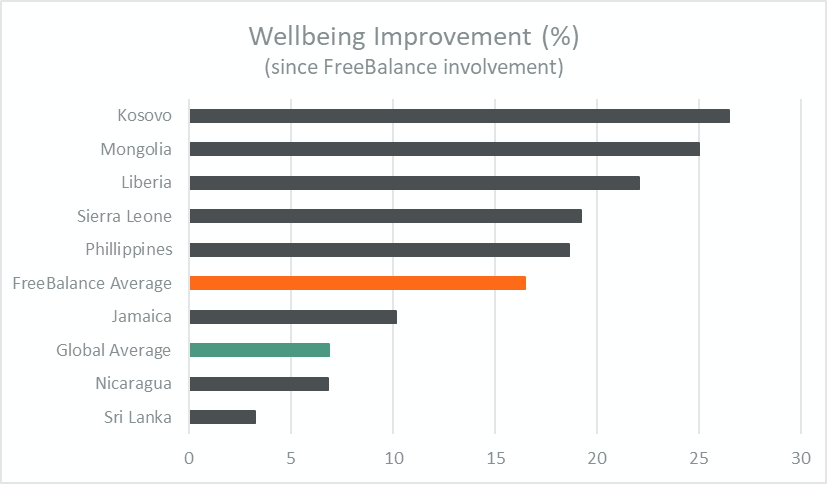 What Has Happiness Got To Do With PFM?
Improvements in Public Financial Management (PFM) have a direct correlation to a government's ability to deliver essential services to citizens such as healthcare, education, infrastructure. Modern and effective PFM is also critical to sustainable economic growth and job creation. All of these factors contribute to our sense of satisfaction with our lives. There is no doubt that public policies which insulate citizens from the ups and downs of the economy appear to promote greater human happiness for all citizens in a nation.
The Six Elements of Happiness
GDP per Capita
Social Support
Healthy Life Expectancy
Freedom to Make Life Choices
Generosity
Perceptions of Corruption
FreeBalance's interest in happiness and wellbeing research is based on our belief that there is too much focus on Gross Domestic Product (GDP) in public policy design. As Stiglitz-Sen-Fitoussi 'Beyond GDP' report states: "Too much emphasis on GDP as the unique benchmark can lead to misleading
indications about how well-off people are and run the risk of leading to the wrong policy decisions."
It is gratifying to note how the global narrative around these two concepts (happiness/wellbeing and GDP) has changed over time. The graphs below from the WHR show the frequency of mentions in all printed books has increased.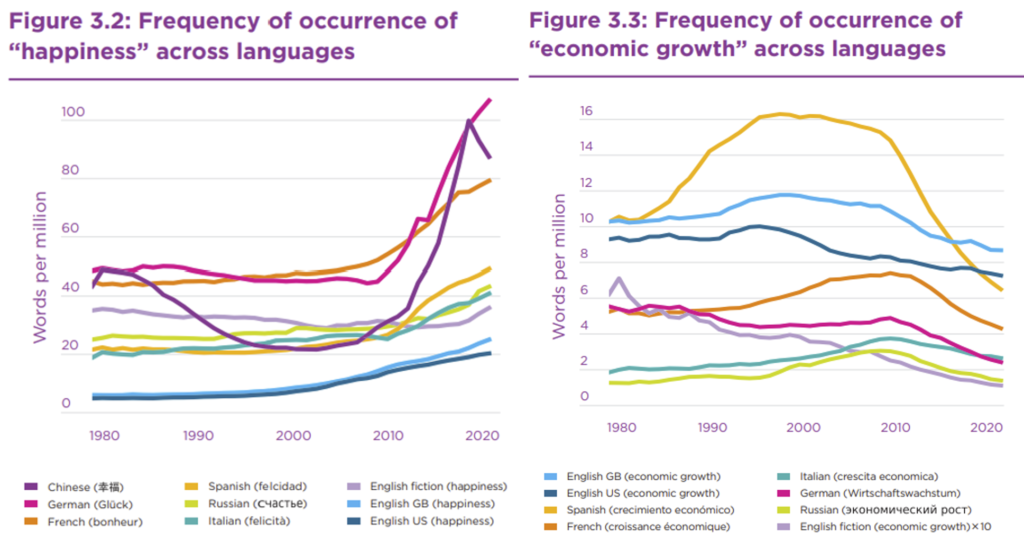 Wellbeing Improvements in FreeBalance's Customer Countries
FreeBalance's purpose is to improve citizen wellbeing around the world by enabling PFM reform that matters. Combatting corruption through enhanced governance and transparency, and improving government effectiveness through digital transformation are the foundations of the FreeBalance Accountability Suite™.
For a detailed analysis of wellbeing improvements in our customer countries, please take a look at these success stories:
Jamaica (coming soon)
Nicaragua (coming soon)
Further Reading
How Can Governments Create Happiness?
The Government Wellbeing Balanced Scorecard
Get in Touch
We're passionate about improving wellbeing around the world through PFM reform and would welcome a discussion on how we could help your country. Please get in touch, subscribe to our blog, and follow us on social media – LinkedIn and Twitter.
Topics