How can government prioritize to support the global Sustainable Development Goals?
Consider this: the SDGs include 17 goals and 169 indicators. And, unlike the Millennium Development Goals (MDGs), the SDGs apply to all countries.
Performance management experts will tell you that 169 measurements are too many for any organization. Many of the indicators are proxies that do not measure goals. Some indicators have no quantifiable metric. Few are independent of other indicators, there are additive factors. The SDG indicators measure network effects of government policy, integrated with the economic, technology, social, cultural, and environmental contexts.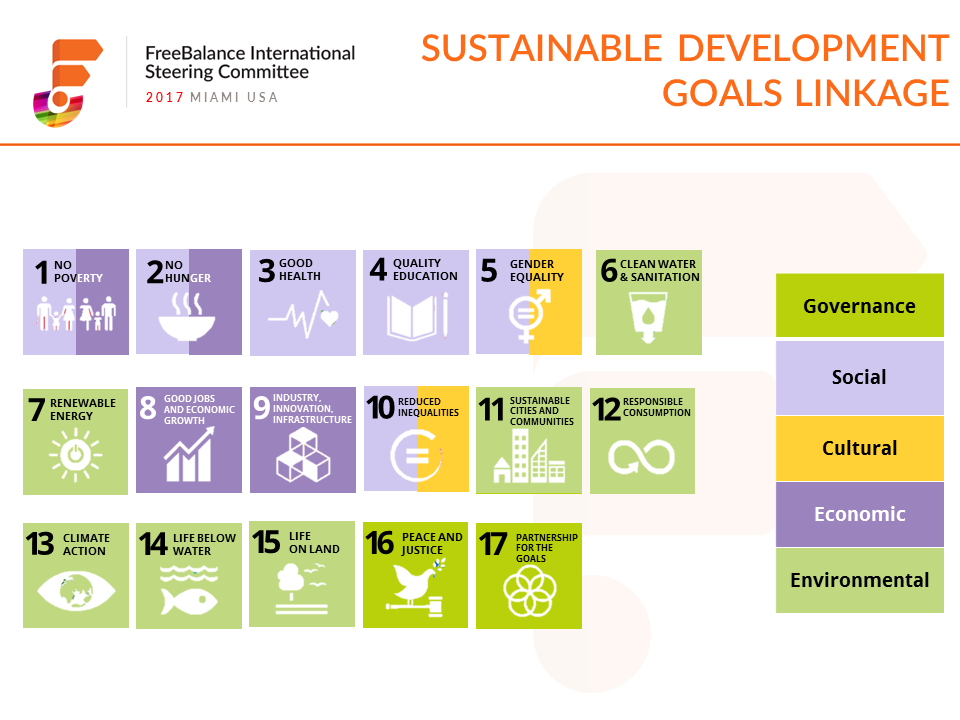 Governments allocate scarce resources to achieve policy goals. SDGs were the main theme for the FreeBalance International Steering Committee (FISC) conference last year. An important FISC takeaway was the need to focus policy performance to fewer than 169 indicators. The use of the "balanced scorecard"  when integrated with understanding context, provides this focus. FISC attendees discovered, through participation in the H20 conference, that many economic development "best practices" have negative consequences.
Yes, governments need to curb the SDG enthusiasm by focusing on what is important for them. Matt Andrews of the Harvard Kennedy School compares public policy to Christmas trees. Christmas trees filled with many small ornaments, are like governments with many policies and programs that follow conventional thinking. Spending small amounts on many programs results in modest improvements. Programs akin to Christmas trees with fewer, but larger, ornaments have better results.
Governments need to pick their ornaments.
The ornaments should be aligned to citizen values.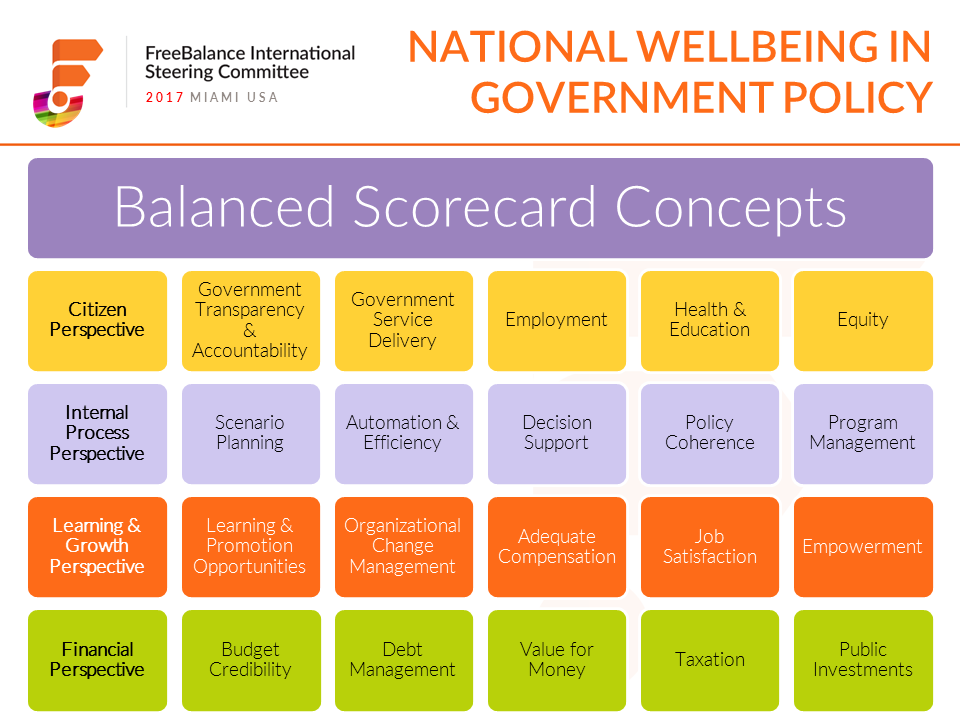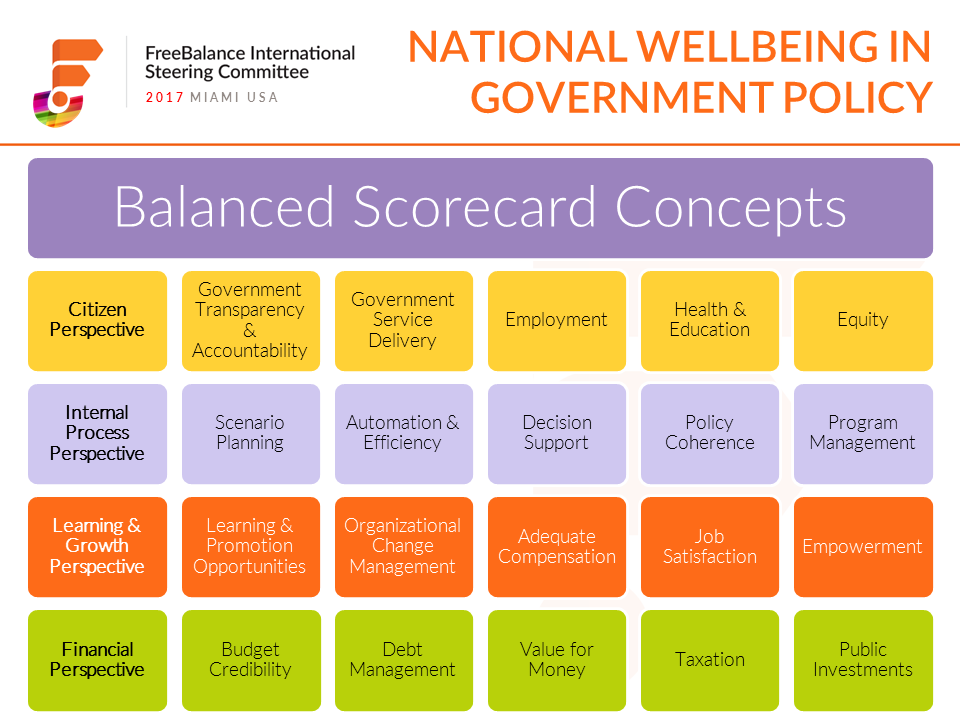 SDGs driven by Public Financial Management (PFM)
PFM is all about allocating public money. This means social and physical public investments. SDGs 1 through 15 are all about public investments. SDGs 16 and 17 are about governance. All governments, from fragile states to the G7, suffer from one or more "governance gaps" that limit public investment policy potential. For example, many governments do not have sufficient public investment financing, despite the high returns experienced from infrastructure improvements.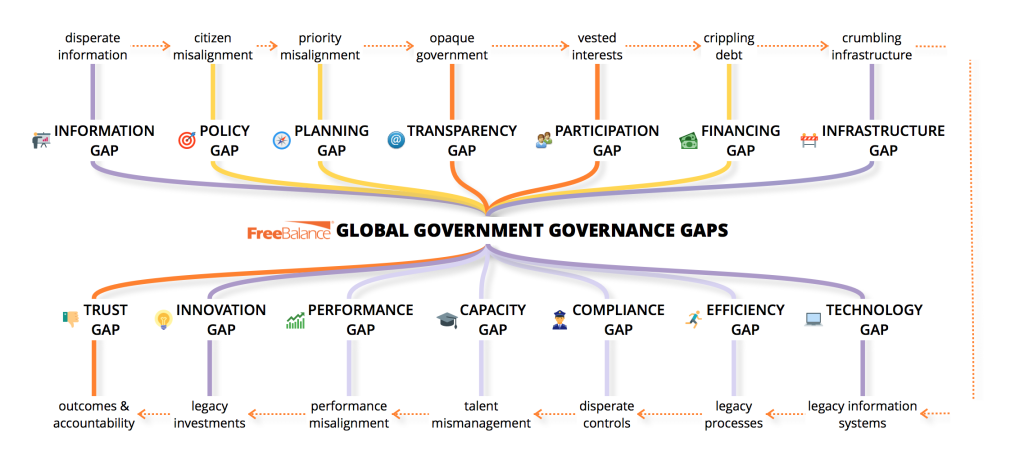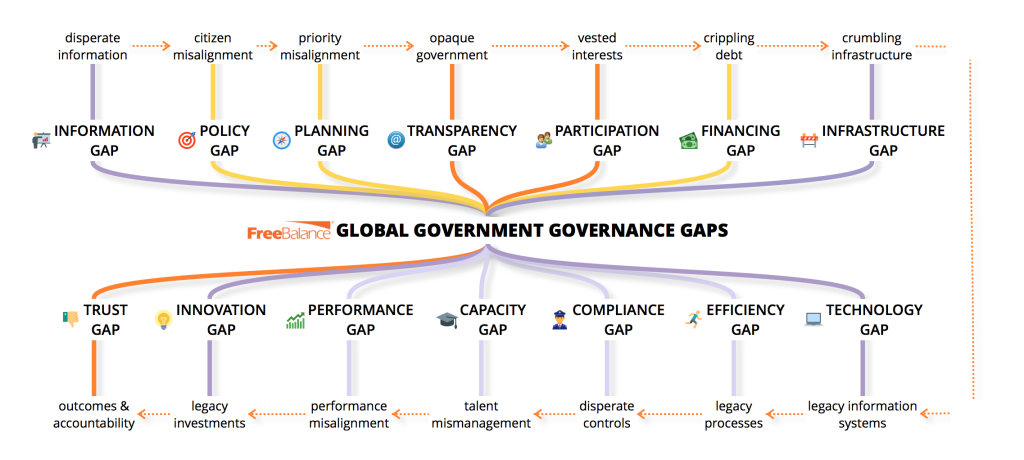 We're focused on three SDGs at FISC 2018 next month:
SDG16, to uncover opportunities to overcome governance gaps, enabled by good PFM practices
SDG13, to uncover ways of financing climate adaptation and climate mitigation public investments
SDG11, to uncover good public investment management practices for physical infrastructure
The PFM to SDG linkage is all about financial metadata – "budget classifications".  These classifications enable governments to measure SDG spending across multiple government organizations. This spending is compared to performance outcomes using techniques such as the balanced scorecard.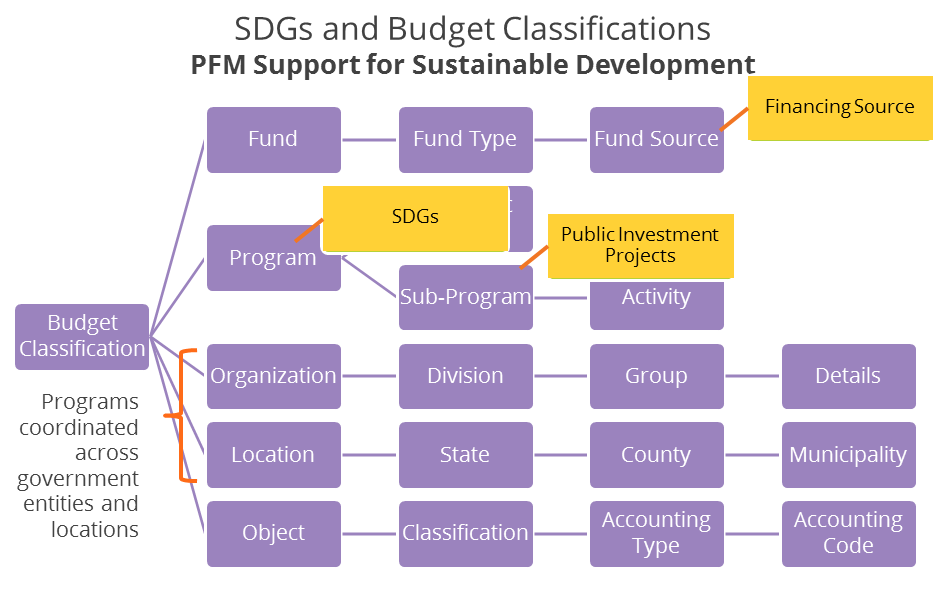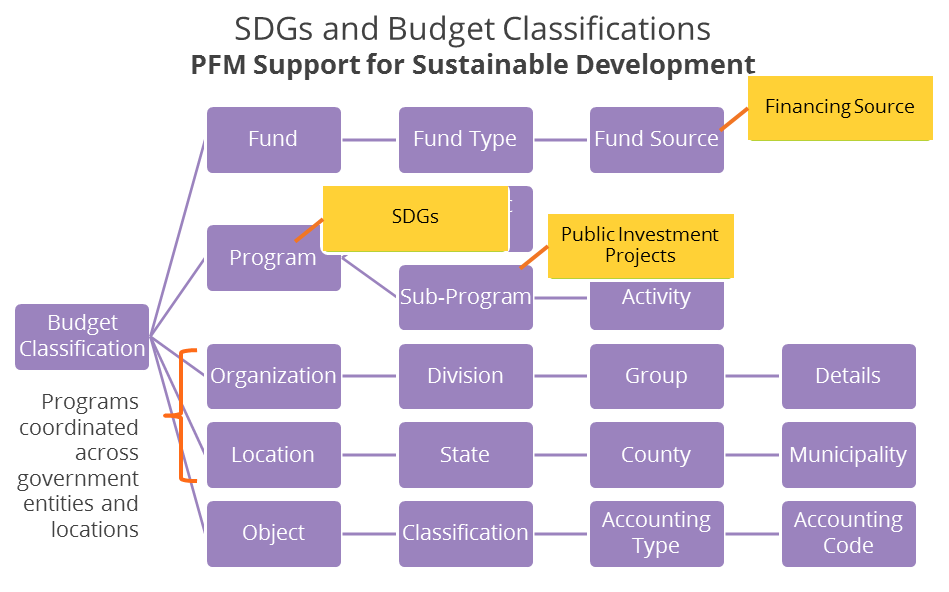 Effective budget classifications enable governments to budget and spend based on priorities, like the SDGs, without burdening data entry personnel. For example, Ministry of Transportation personnel entering Purchase Orders, Goods Receipts Notes, or Expense Vouchers need not know how expenditures directly relate to SDG13. They will know about program names related to expenditures. Decision-makers will see spending progress against SDG13 across all government organizations because of the ability to map priorities to programs.
Budget classifications, often called "Charts of Accounts"(COA), are more complex in government than the private sector. Governments have more "lines of business", and more organizational entities. Governments also need to track spending by economic purpose, fund source, and geography. Most governments also map budget classifications to government objectives, Government Financial Statistics (GFS), International Public Sector Accounting Standards (IPSAS), and the Common Functions of Government (COFOG).
Fortunately for FISC members, the FreeBalance Accountability Suite supports complex COAs through configuration, and multiple-year COAs to accommodate progressive activation, performance management, and PFM reform.
SDGs and the government context
FreeBalance has adapted the PESTLE form of business planning for the government context. We're starting to call it GESCED for Governance, Economic, Social, Cultural, Environmental and Digital. We use this as part of our government advisory services. And, we will have workshops on the technique at FISC 2018.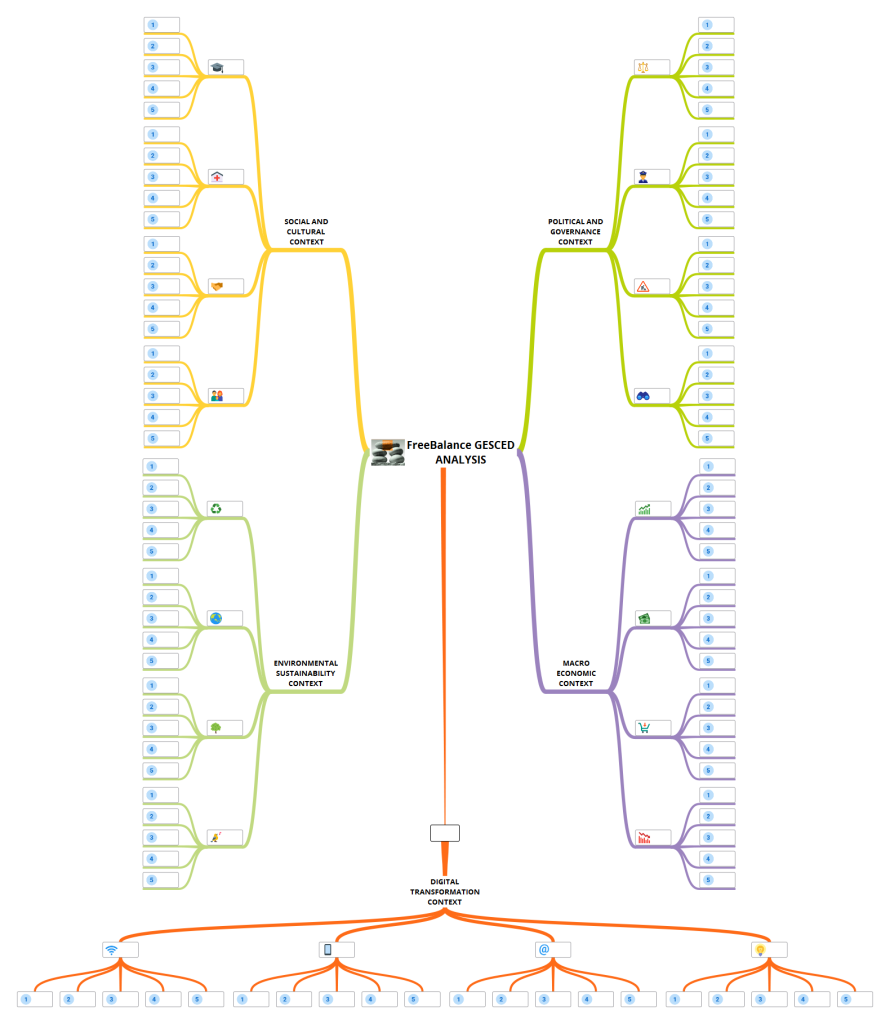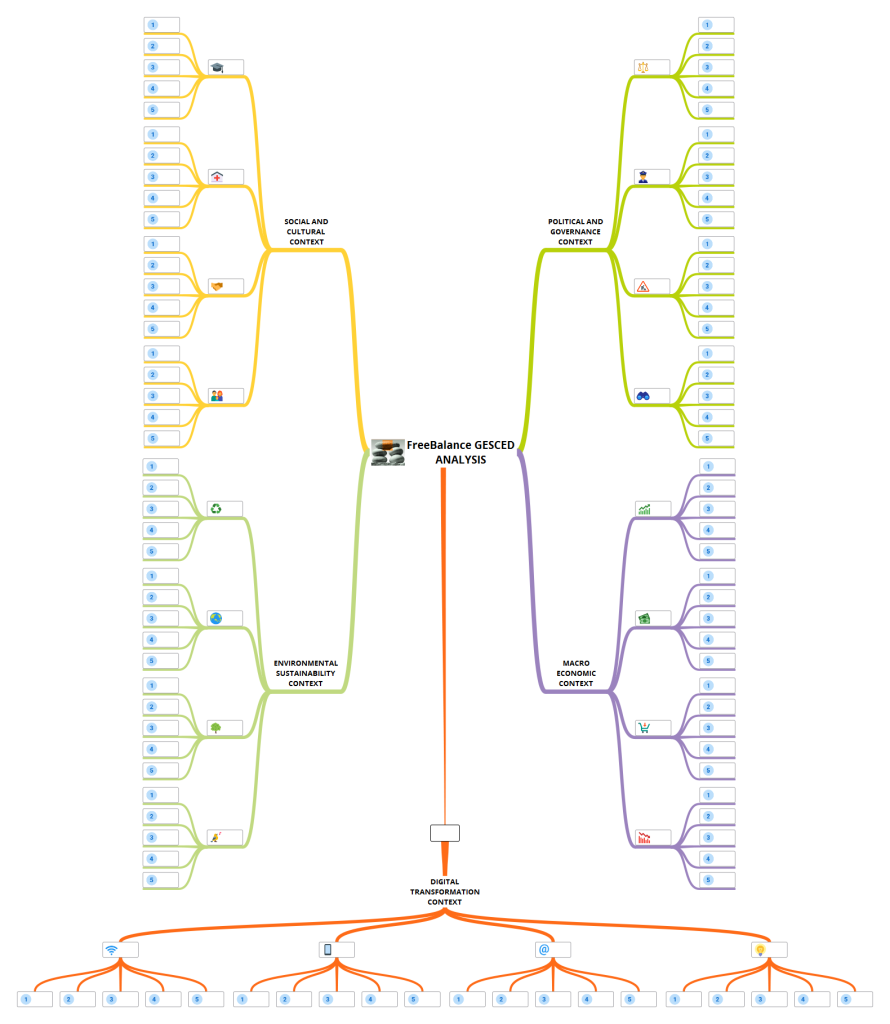 Effective management of public finances improves governance. Government Resource Planning (GRP), when aligned to good PFM practices, helps government improve SDG16 Peace and Justice indicators:
16.5 Substantially reduce corruption and bribery in all their forms through financial controls, and improved transparency
16.6 Develop effective, accountable and transparent institutions at all levels through automating government reporting and transparency
16.7 Ensure responsive, inclusive, participatory and representative decision-making at all levels with transparency and participatory budgeting
16.8 Broaden and strengthen the participation of developing countries in the institutions of global governance through improved governance effectiveness and performance
Good PFM practices help governments improve SDG13 Climate Action, and SDG11 Sustainable Cities and Communities through effective public investment management. These PFM practices enable overcoming governance gaps. Governments can find SDG13 and SDG11 success through:
Policy and Planning tied to the SDGs and country needs

13.2 Integrate climate change measures into national policies, strategies and planning
11.4 Strengthen efforts to protect and safeguard the world's cultural and natural heritage
11.7 By 2030, provide universal access to safe, inclusive and accessible, green and public spaces, in particular for women and children, older persons and persons with disabilitie
11.A Support positive economic, social and environmental links between urban, per-urban and rural areas by strengthening national and regional development planning
11.B By 2020, substantially increase the number of cities and human settlements adopting and implementing integrated policies and plans towards inclusion, resource efficiency, mitigation and adaptation to climate change, resilience to disasters, and develop and implement, in line with the Sendai Framework for Disaster Risk Reduction 2015-2030, holistic disaster risk management at all levels

Financing improved through fiscal space, and selecting most effective funding based on context

11.C Support least developed countries, including through financial and technical assistance, in building sustainable and resilient buildings utilizing local materials

Infrastructure acquired is environmentally and financially sustainable

11.3 By 2030, enhance inclusive and sustainable urbanization and capacity for participatory, integrated and sustainable human settlement planning and management in all countries
11.5 By 2030, significantly reduce the number of deaths and the number of people affected and substantially decrease the direct economic losses relative to global gross domestic product caused by disasters, including water-related disasters, with a focus on protecting the poor and people in vulnerable situations
11.6 By 2030, reduce the adverse per capita environmental impact of cities, including by paying special attention to air quality and municipal and other waste management

Performance aligned with programs that are integrated the policies

11.2 By 2030, provide access to safe, affordable, accessible and sustainable transport systems for all, improving road safety, notably by expanding public transport, with special attention to the needs of those in vulnerable situations, women, children, persons with disabilities and older persons
Topics