It is unlikely that 2022 will be remembered fondly by governments around the world. In fact, things are so bad that the word 'permacrisis' is the Collins Dictionary word of the year. With governments having to deal with unsustainable levels of public debt and seemingly unrelenting waves of crises, all eyes are once again on Public Financial Management (PFM).
The good news, however, is that many governments already use program budgeting in Financial Management Information Systems (FMIS) such as the FreeBalance Accountability Suite™. This PFM good practice empowers governments to reallocate, track and audit their finances efficiently.
What is Program Budgeting?
The OECD defines program budgeting as the use of a cost-benefit analysis in budget decision making, the allocation of expenditures by program (group of activities related to specific government objectives), and the assessment of the results of a program in relation to its objectives.
In order to implement program budgeting, governments need:
Program structures in their Chart of Accounts (COA) that tie government objectives to projects across government Ministries, Departments, and Agencies (MDAs)
Performance structures

(outputs and outcomes) in a Charts of Goals that is integrated with the COA structure in order to track results 

Valid Code Combinations

in the COA structure to ensures that program and project spending ties to proper MDAs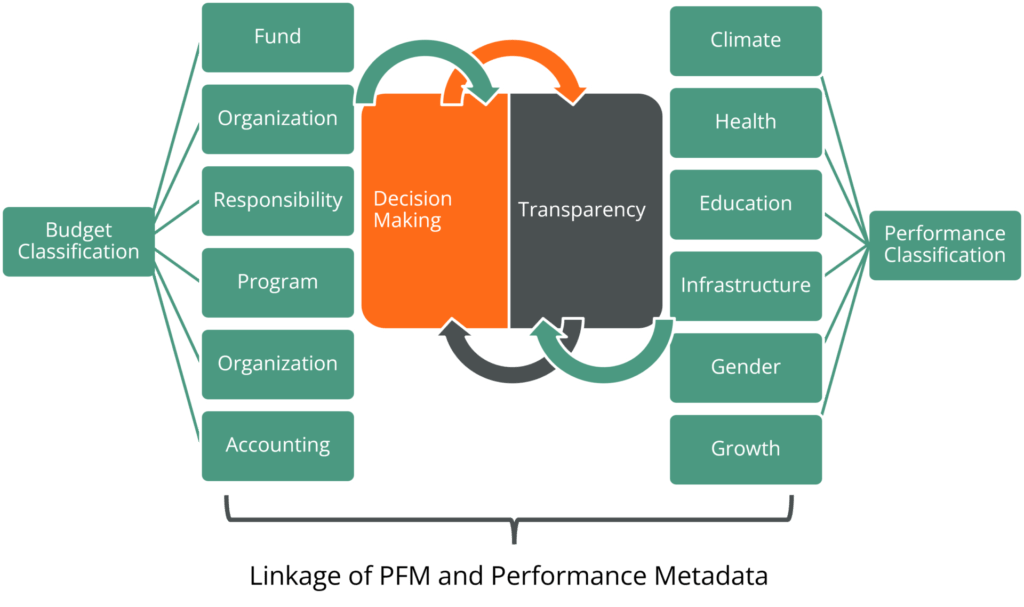 How Can Governments Leverage Program Budgeting for Crisis Responses?
Create a program and sub-programs (or projects) in the COA 

Link to fund type and fund source to track spending based on aid and on-budget sources 

Develop Valid Code Combinations tying programs to MDAs 

Reallocate funds based on programs rather than by MDAs for an equitable response 

Track commitments, obligations, goods received, and payments to track spending progress

What Are the Benefits of Program Budgeting?
Program budgeting supports fiscal shock planning by including program scenarios in budget formulation. It also supports a government's crisis response by enabling spending reallocations, controls and tracking. And it promotes good governance and transparency through compliance and performance audits during and after the spending adjustments. However, in order to reap the benefits of program budgeting, a multiple year COA is required.
Given how frequently governments update the COA and budget classifications as part of PFM reform journey, multiple year COAs are supported by the FreeBalance Accountability Suite™. Yet many ERP and custom-developed systems require significant effort to make changes to the COA.

How to Use Program Budgeting Without a Multiple Year COA
Challenges for governments not using program budgeting, and without a multiple year COA could be temporarily overcome by:
Adapting workflow rules if the FMIS has low-code/no-code business process management (like the FreeBalance Accountability Suite™

) 

Adding identical projects within the COA for each MDA because all FMIS systems should enable adding new account numbers without changing COA structures (but will be difficult to maintain post-crisis because of the need to replicate the same numbering scheme) 
Reallocating budgets using the new account numbers (although will have the problem of assigning program percentages across MDAs, so will have an added burden on budget transfers and virements) 
Developing new reports specifically for the new account numbers to track spending and support approvals 
Publishing spending on the web using tools such as a Transparency Portal (although it may be difficult to track the entire commitment cycle, or to explain the outputs and outcomes achieved) 
Conclusion
Program budgeting is a powerful Public Financial Management tool to develop contingency plans, manage emergency spending, and provide fiscal transparency. Given the massive levels of distrust in governments, the adoption of multiple year COAs and program budgeting is well advised in our permacrisis era.
To support governments interested in adopting these PFM good practices, FreeBalance provides diagnostics and advisory services. Get in touch to find out more.
Topics