Can Digital Transform Public Finance?
The promise of a brave new world in which governments are digitally transformed, delivering citizen services efficiently and effectively is unfortunately still some way off. But why is this the case?
The recent Budgets and Bytes event hosted by the Overseas Development Institute (ODI) for the launch of their new digital public financial management (PFM) hub and white paper entitled Digital Public Financial Management: An Emerging Paradigm are a great first step to get consensus around the challenges and opportunities, but in our view there is still lots lots needed to integrate public finance, economics, and digital technology.
The ODI is to be applauded for the important contribution these initiatives make to the body of knowledge and practice of digital PFM and government digital transformation. This piece covers our key observations.
ODI Budget And Bytes Summary
Digital PFM approaches have the potential to blend the capabilities of finance ministries with the goals and requirements of digital service delivery, according to the ODI paper. However, ODI authors caution that the emerging digital PFM paradigm faces six major challenges:
A bias towards commercial off-the-shelf (COTS) solutions
An incomplete understanding of user needs and incentives
An inherent aversion to iterative, incremental ways of working which are fundamental to agile
Critical skills gaps in financial ministries
Outdated funding models
Legacy technology and the sunk cost fallacy
To realize the benefits of digital PFM approaches, public finance experts need to work more closely with other specialisms within the government to overcome key reform and service delivery challenges in making public finance digital.
FreeBalance View on The State of Digital PFM
Given our work in the field for almost 40 years, our top takeaways from the event are:
Opportunities: Services And Digital Enablement
At the ODI Budgets and Bytes event, attendees were presented with a variety of possibilities on how digital PFM could benefit public spending. One of the standout ideas was the value of reporting and analysis for politicians, as it would give them access to data-driven insights and enhance transparency in decision-making. However, a speaker from Bangladesh argued that digitizing social payments could be even more significant, offering a glimpse into how digital PFM could completely transform the way governments interact with citizens.
Conversations among attendees moved to the potential of using blockchain technology to increase transparency and security in financial transactions. However, the view was that until Central Bank Digital Currencies (CBDCs) are introduced, the implementation of blockchain technologies would be limited.
Find out about FreeBalance's Blockchain Readiness Framework and Advisory Services
Customization vs Configuration Confusion
It was clear that many participants were not up to speed on the digital PFM options available and that there is confusion around the difference between customization and configuration.
Configuration refers to the ability to set up and personalize the Government Resource Planning (GRP) system to suit the needs of a public sector organization. This may include configuring workflows, setting up user permissions, and defining budget categories. Configuration options are typically pre-defined by the GRP provider and are available to all users within the organization.
Customization, on the other hand, refers to the ability to modify the GRP platform or software to better fit the specific needs of the organization. This may include creating new modules, integrating with other systems, or even developing custom reports or dashboards. Customization options often require more technical expertise.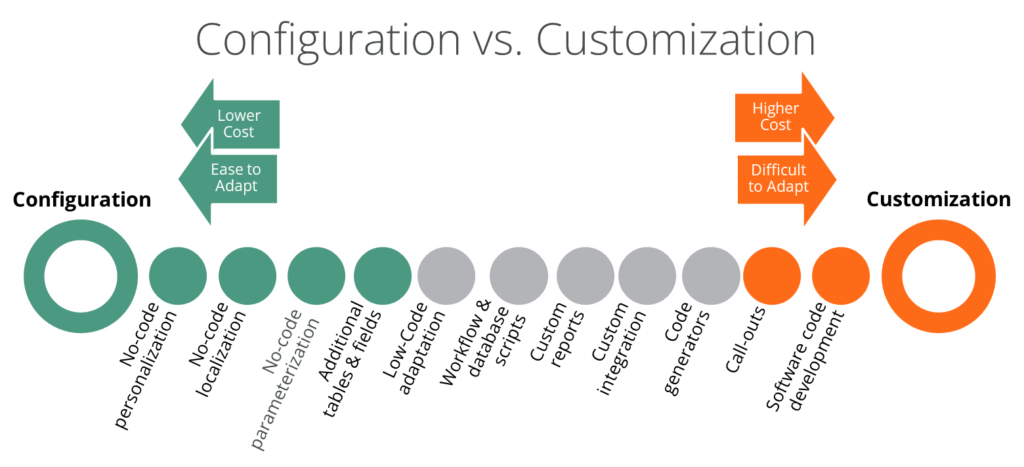 Unlike the FreeBalance Accountability Suite™ which is highly configurable, most commercial off-the-shelf (COTS) software used for GRP requires significant code customization. Software development, typically using proprietary programming languages, enables governments to support custom requirements. But, at a cost. Code customization is expensive and comes with future adaptability challenges which means that it generates technical debt.
For a detailed breakdown of the differences between customization and configuration and the implications of each, read: Customization vs Configuration in Digital PFM
Digital as a Public Good
The concept of digital as a public good was highlighted, with speakers discussing how it can serve as a leapfrog opportunity for developing countries. However, the issue of capacity limitations was also raised, which could limit the potential benefits of digital PFM in these regions. Despite this, the consensus was that digital PFM has the potential to transform the way governments interact with citizens and manage public finances. By using digital technologies, governments can improve transparency and accountability, ultimately leading to improved public spending and service delivery.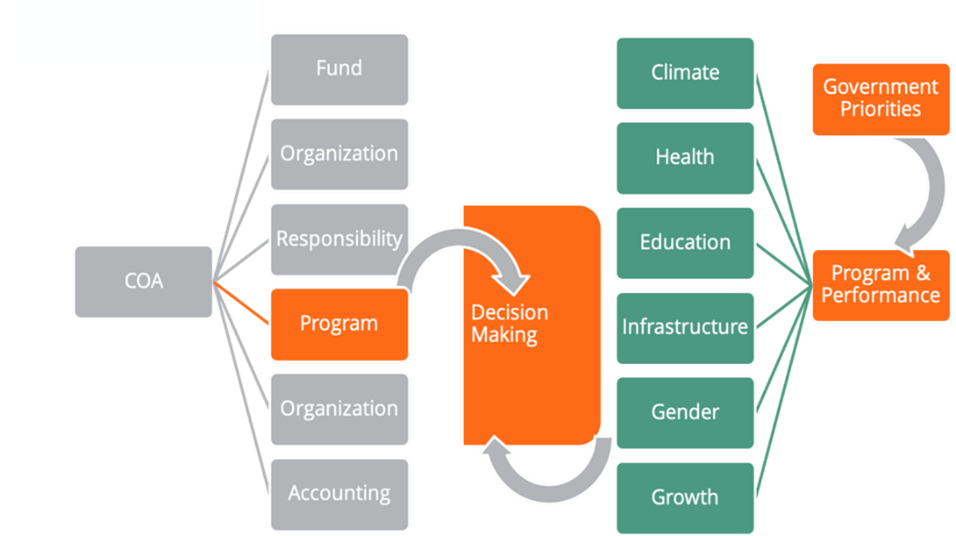 Further reading:
Open Architecture And Interoperability
Open architecture and interoperability in digital public financial management are key needs. The consensus, however, was that silos were the main problem, with speakers citing turf politics, change concerns, and capacity limitations as the root causes. Legacy systems were also seen as an issue, although not to the extent that they needed to be entirely replaced. In our view, this issue has a series of sub-issues that need to be addressed:
Progressive Activation
Government Digital Transformation
Interoperability
Open Architecture
Progressive Activation
It was proposed that a 'modular approach' to digital PFM be adopted. This would essentially involve building upon existing legacy systems rather than starting from scratch. Our view, however, is that this creates additional confusion. Modular refers to a progressive activation approach to PFM reform in which new modules or functionalities are added to a GRP system over time to enable more advanced functions in sequence with improved capacity and legal reforms, which ultimately leads to improved government performance and service delivery.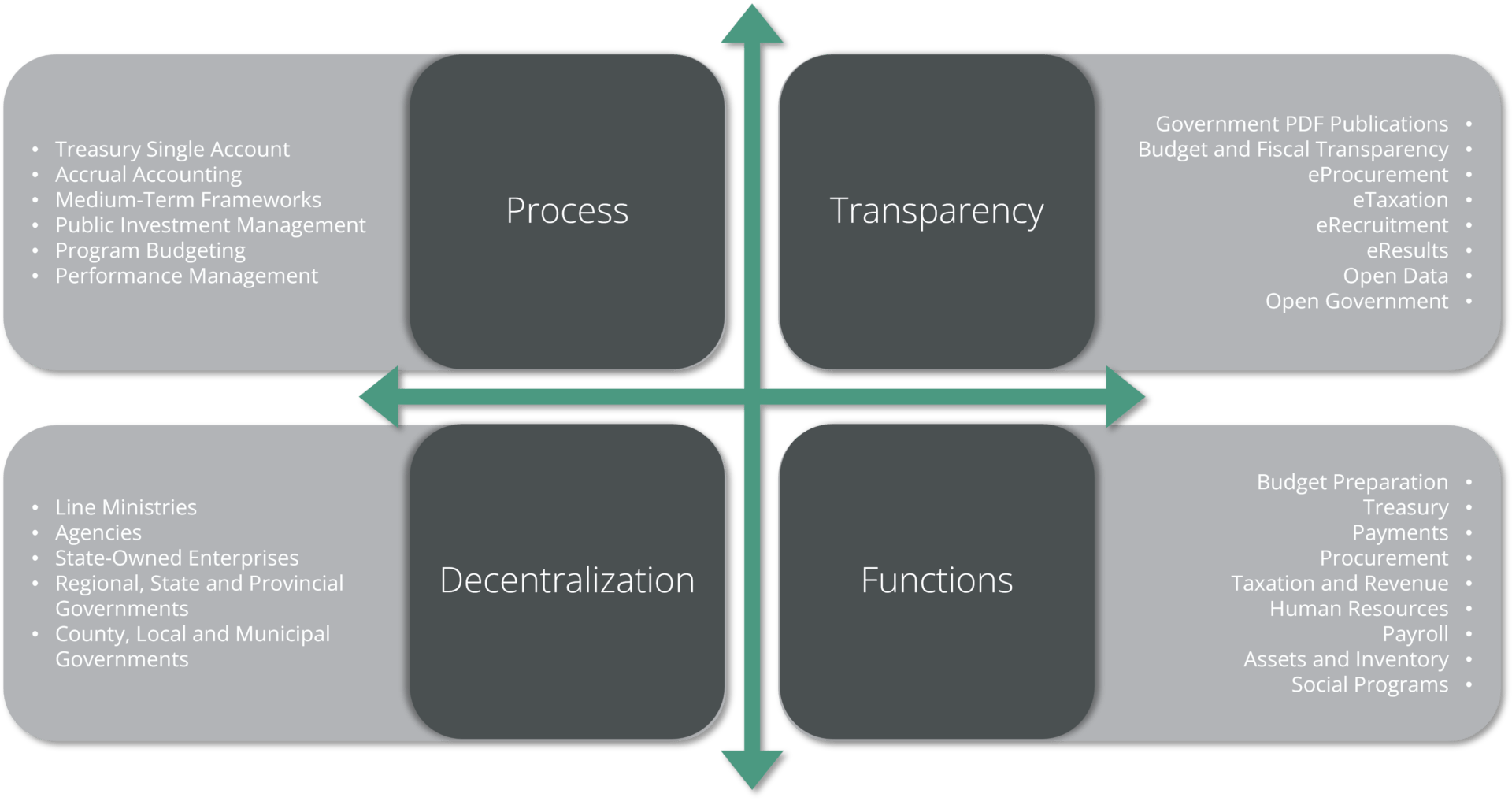 For more information on progressive activation read Progressive Activation for Sustainable PFM Reform
Government Digital Transformation
We feel that there seems to be some misunderstanding in governments about the digital transformation of public finances. Information technology investments in digital do not necessarily have anything to do with digital transformation. Government digital transformation is about driving new value for citizens through new "business models". It's about change. Today's functional approach to the acquisition of financial management technology (i.e. debt, customs, tax, eProcurement, etc) means that governments are not rethinking processes based on digital capabilities. They are just digitizing based on manual processes.
It is striking then that the OECD has highlighted a desire in governments to move away from spending time on transactions to analyzing data. This is particularly relevant as there is a growing trend towards decentralization, with more and more countries seeking to empower local governments to make their own financial decisions.
Simply put, digital transformation in the public sector is required in order to evolve the systems of government from simple record keeping to innovative systems that enable the delivery of sustainable development and citizen wellbeing.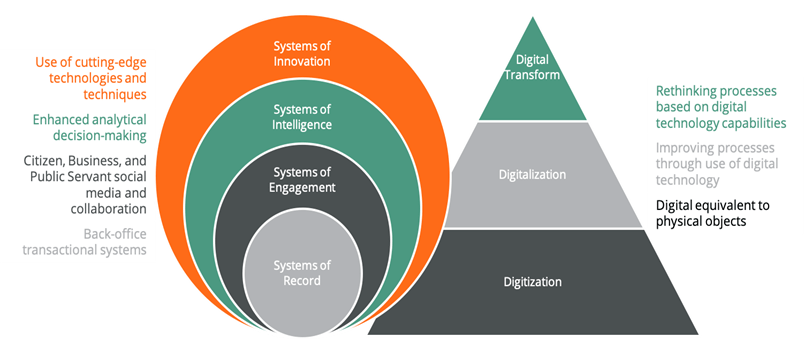 For more information on government digital transformation read:
Interoperability
Interoperability between a government's various systems and its GRP system means that integration is automated, with no need for any manual interface processes. The potential for corrupt practices is therefore reduced. Through integration of metadata, such as the Chart of Accounts, organizational charts, budgets, programs and vendors are shared among financial applications which in turn share controls such as commitment controls and the segregation of duties.
Interoperability offers seamless and unified integration among systems of record yet it remains a significant problem within traditional PFM – this fiscal management pain experienced by finance ministries is magnified when using these for digital systems of engagement, intelligence and innovation.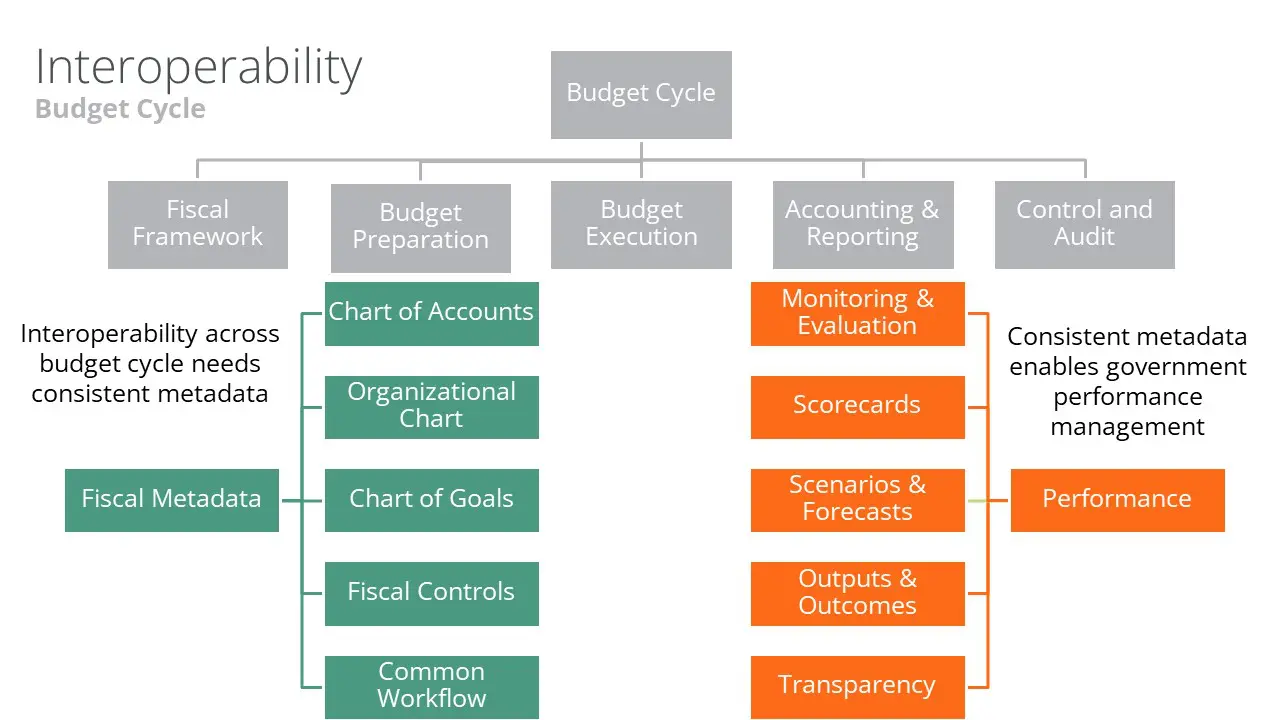 For more information on interoperability read Interoperability in Public Financial Management Systems
Open Architecture
The discussions highlighted that there is a general misunderstanding of what proprietary, open systems, open standards, and open source actually mean. The solution sets discussed imply shifting to a much more open technology architecture in which digital solutions for PFM are part of a wider ecosystem of shared digital infrastructure, data and services. And to make this possible, governments need to reform their funding and delivery models to be more outcome-focused and problem-driven.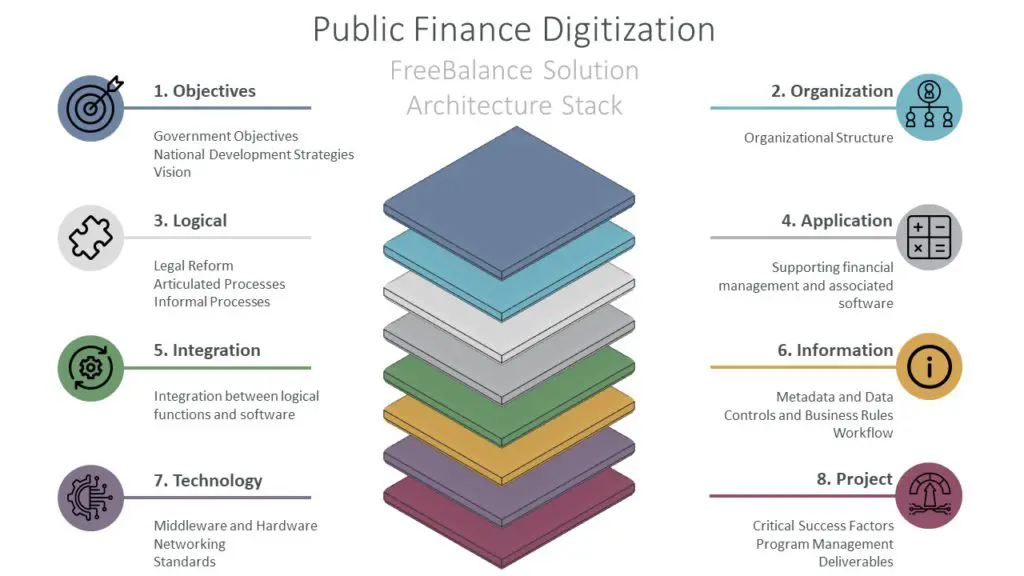 Problem-driven and agile approaches are fundamental to achieving digital transformation but there remains significant scepticism in agile and the notion of funding a project without "best practices" and large vendors seen as very risky.
For more information on open architecture read The Value of a Government FMIS Solutions Architecture
The 'Agile' Debate
The discourse highlighted the importance of moving from a solution-focused approach to a problem-focused one in public financial management. This means prioritizing the identification and solving of problems that can arise in the implementation of PFM projects. It also led to the use of 'agile in government'.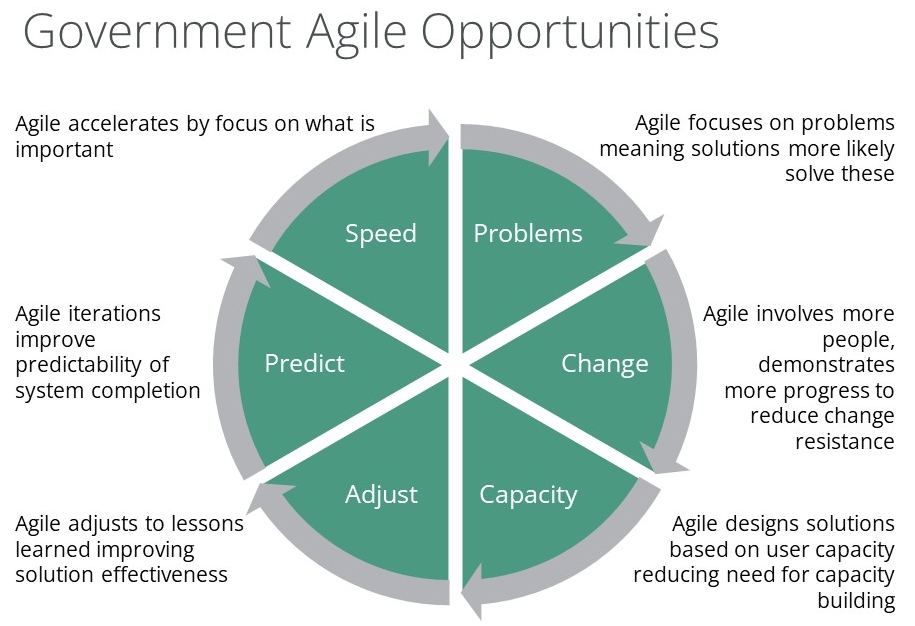 The risk averse nature of government appears to be behind the reason why many government decision-makers remain sceptical of agile approaches (as shown by some of the questions in the event) and question whether this work and whether these approaches are sustainable. To them agile implies that projects are not fully thought out, including the expected results, and appear to be risky. Compounding the issue is that agile projects tend to be implemented more frequently by smaller firms with innovative approaches that appear to be risky when compared to large proven vendors. However, the fact remains that the waterfall method is more risky and more expensive.
Various institutional aspects also discriminate against agile. Procurement approaches tend to weed out smaller vendors through needed qualifications and the cost to produce bids and very few governments support forms of agile procurement. Ironically, many FMIS tenders require agile approaches, but then list sets of mandatory waterfall processes.
The use of agile methodology was discussed as a way to facilitate this shift, but despite recent examples of successful agile implementations in government, agile adoption has not increased as expected.
Read: Agile Facilitates Government Change Management
Learn more about FreeBalance's highly successful, ISO certified agile methodology, A-i3+qM™.
The COTS Myth
In the world of public financial management, there's a persistent myth that Commercial Off-the-Shelf (COTS) software is too expensive, built for the private sector, and too complex to customize for government use. This notion often leads to the belief that custom-developed software is the only legitimate option, especially for smaller systems used by local government agencies. However, as experts at the ODI Budgets and Bytes event highlighted, custom development comes with its own set of challenges and may not always be the best approach.
Read: Total Cost of Ownership of Government Resource Planning Systems
Our viewpoint is that COTS, particularly GRP, is a much better enabler of interoperability and digitization than alternatives. It should be remembered that the majority of ERP and custom-developed software in use for core financial management uses legacy or expired technology.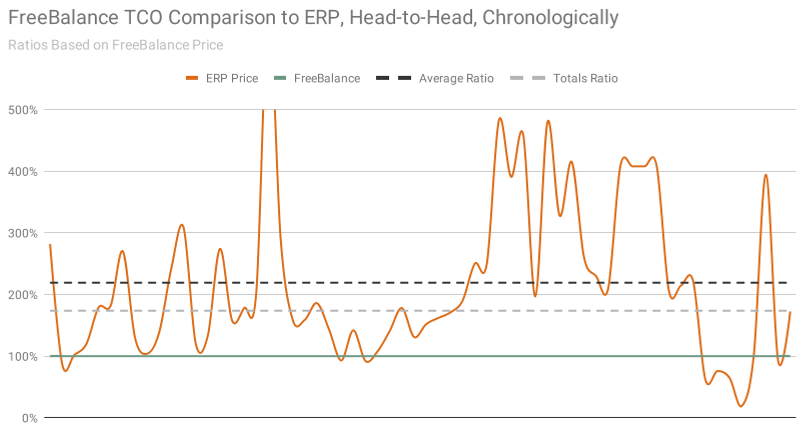 Another myth is that the Development Finance Institutions (DFIs) are biased towards COTS and 'big bang' implementations. Being at the coalface of Financial Management Information System (FMIS) tenders we are perhaps best qualified to dispel this myth. DFIs do not appear to support any prevailing bias towards COTS based on papers, blog entries, and funded tenders compared to the general enterprise software market. There are many reasons why custom developed software should be avoided, although this is not a binary choice – governments can leverage COTS platforms for custom development, and mix custom and COTS.
Regarding the bias to "big bang" approaches, the FMIS footprint for acquisitions has certainly increased over the years and although most acquisitions have phases, the good practice of "quick wins" sadly appears to have been abandoned.
The reality is that governments tend to have far more custom-developed applications within a PFM portfolio than COTS even when the core FMIS is COTS. In fact, data from the World Bank shows that custom-developed FMIS exceeds COTS ERP or COTS GRP. Speakers at the event shared examples of cases where custom development led to unexpected problems and complications. This highlights the need to shift the focus from the solution to the problem at hand, and to consider alternative options such as COTS software. One of the benefits of using COTS software such as the FreeBalance Accountability Suite™ is that it is designed specifically for government and excludes private sector functionality which impinges on government performance.

Procurement
Governments around the world are facing challenges in the acquisition of digital technology for PFM due to outdated procurement processes. These slow and complex procurement procedures often result in old technology being acquired, or worse, expensive failures.
One area where this is particularly relevant is in eProcurement, which involves the use of digital tools to streamline the procurement process, reduce corruption, and improve transparency. eProcurement has been proven to save money, reduce errors, and increase efficiency. However, traditional procurement practices often inhibit the adoption of eProcurement, as they are not flexible enough to accommodate the complexities of digital systems.
Read: Benefits of eProcurement in Government
Agile procurement and project management enable effective government digital transformation. That's why our A-i3+qM™ methodology leverages agile tools, and good iterative practices from the private and public sectors. However, there has been resistance in the use of these tools by DFI funders, and government decision-makers.
DFIs also fund individual silo systems. And, governments often adopt silo technology improvements to match legal reform. The result is systems that do not interoperate. Interoperability is critical for good PFM, and foundational for any digital transformation.
Read: Agile for Sustainable Modernization in Government
Outdated Funding Models
The outdated funding modules used by the DFIs are a result of the fact that they tend to view reform in silos which results in the lack of interoperability among budget preparation, core financials, public investment, payroll, human resources, and procurement systems. Governments also tend to reform in silos.
The lack of interoperability is most often caused by institutional change resistance and the use of custom-developed software – although many COTS ERP solutions consist of acquired systems with different technology platforms that make interoperability difficult.
Read: FMIS Procurement: A Greek Tragedy
Legacy Technology And The Sunk Cost Fallacy
The majority of FMIS applications in use today use legacy or expired technology. Of those, the ERP applications used are legacy and proprietary technology that is not recognized as such by decision-makers (possibly because of the marketing might of large vendors).
However, legacy technology inhibits interoperability, and leveraging data for digital systems of engagement, intelligence, and innovation. It should be recognized that market consolidation means that some software manufacturers have up to four completely different solutions for FMIS!
The sunk cost fallacy plays a role in holding on to existing FMIS applications, in addition to familiarity, but where it really becomes an issue is when a COTS or custom project goes awry, with an increased commitment and cost that would have been eliminated through agile processes.
Read: How to Design a Financial Management Information System
Agile Procurement
To overcome these challenges, some governments have started to adopt agile procurement practices that are better suited to acquiring digital technology. These practices emphasize collaboration, rapid iterations, and continuous feedback to ensure that the technology meets the needs of the end-users.
By embracing agile procurement and eProcurement, governments can improve their PFM processes and achieve better outcomes for citizens. It is important for governments to recognize the limitations of traditional procurement processes and take steps to adapt to the digital landscape.
Read: How to Modernize FMIS Procurement
Chart of Accounts
The Chart of Accounts (COA) or "budget classification" is arguably the most critical part of effective PFM reform and FMIS design. Yet the design and implementation of a COA has been a significant task when transitioning to digital PFM systems. Discussions around obstacles to digital transition in government financial management were raised. One of the key challenges here remains the thought that full design and implementation of a COA must happen before digital transition – many participants noted this thinking as a real problem. Ultimately, though, agile methodologies and eProcurement systems can help overcome these challenges and enable more effective digital transformation.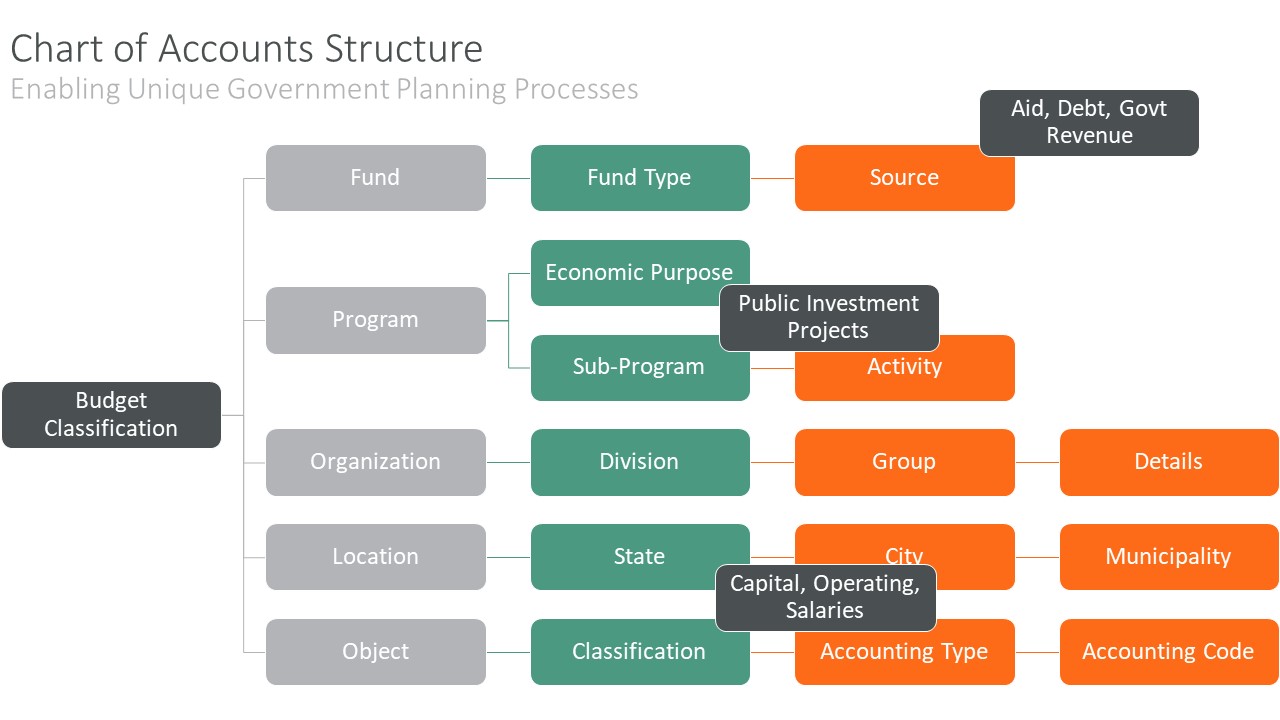 Despite these solutions, there is still a need for governments to understand that a well-designed COA is essential for effective public financial management. The challenge is to balance this need with the practical realities of transitioning to digital PFM systems in a way that is both efficient and effective.
Read: Good Practices in Chart of Accounts Design
FreeBalance has extensive experience in helping governments with their COA design, implementation and training (The FreeBalance Academy). For more information, please get in touch.
Conclusions
In conclusion, the ODI Budgets and Bytes event highlighted the potential of digital PFM to improve public spending. However, it also revealed a number of challenges that need to be addressed in order to fully realize the benefits of this approach.
To overcome these challenges, public finance experts need to work closely and interconnected with other specialisms within government to develop holistic digital PFM solutions that blend the capabilities of finance ministries with the goals and requirements of digital service delivery. This will require a shift from a solution-focused to a problem-focused approach, with an emphasis on agile methodologies, open architecture, and interoperability. However, it is important to note that the use of digital PFM solutions should be tailored to the specific needs and capacities of each country or agency.

To speak to a digital PFM expert about how FreeBalance could support government digital transformation in your country, please get in touch.
Topics