What is a Solutions Architecture?
Ali Hashim, a well-known FMIS expert, tweeted about the architecture of Public Financial Management (PFM) digitization. 

FreeBalance follows a similar approach. But what is a solutions architecture and why is it important for implementing a government Financial Management Information System (FMIS)?
There are multiple definitions of Solutions Architecture (SA) with nuanced variations, but perhaps the most authoritative are from The Open Group:
A description of a discrete and focused business operation or activity and how IS/IT supports that operation. A Solution Architecture typically applies to a single project or project release, assisting in the translation of requirements into a solution vision, high-level business and/or IT system specifications, and a portfolio of implementation tasks.
And Gartner:
An architectural description of a specific solution. SAs combine guidance from different enterprise architecture viewpoints (business, information and technical), as well as from the enterprise solution architecture (ESA).
The important point to remember is that a solutions architecture is NOT THE SAME as an enterprise architecture (which describes the full IT infrastructure, business structure, goals and objectives) or a technical architecture (description of the structure and interaction of the platform services, and logical and physical technology components).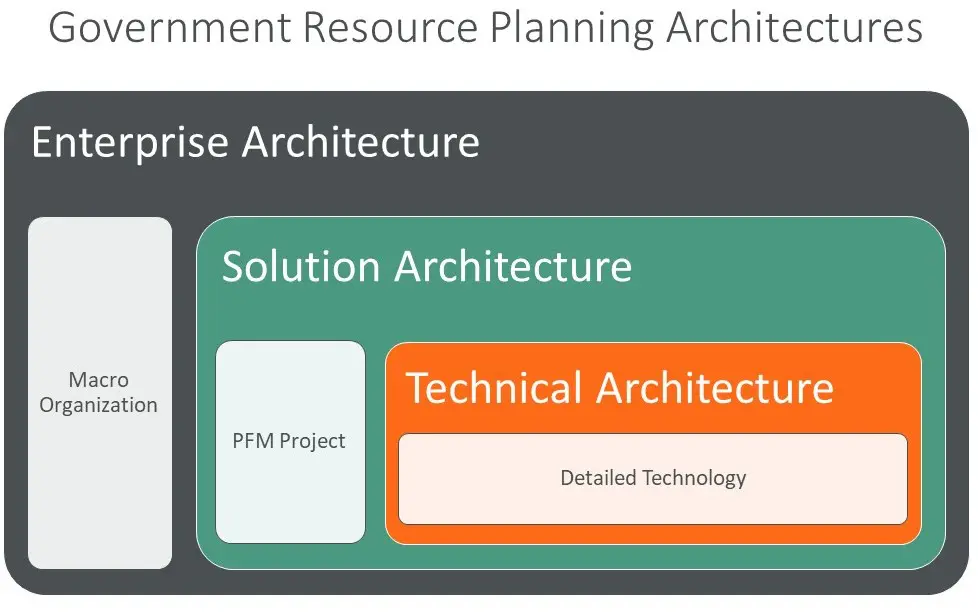 Why is a Solution Architecture Important for FMIS Implementations?
Effective solution architecture for a government FMIS system requires integration:
Subset of relevant organizational goals from the Enterprise Architecture that applies to the PFM project
Integration with, and adaption of, the Technical Architecture, to achieve PFM project objectives
FreeBalance Solution Architecture
Why do we use a FMIS Solution Architecture?
Government FMIS projects are transformational. An FMIS implementation is not a back-office technical initiative. It's a project that will transform government and thus requires a properly scoped solution architecture.
FreeBalance's Solution Architecture stack incorporates multiple 'views' across all facets.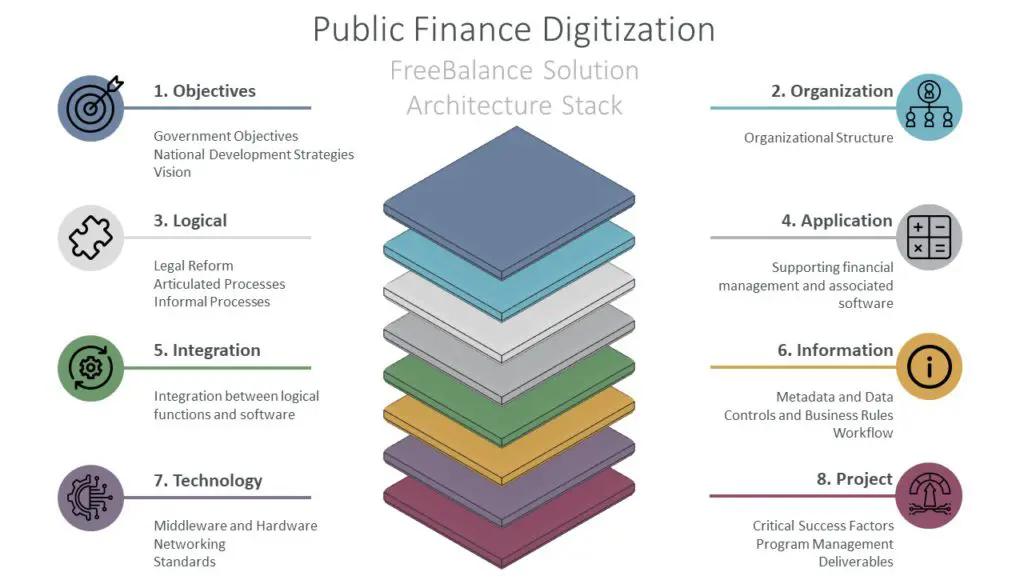 ---
Objectives View
Government Goals: government and line ministry goals
Donor Objectives: provided if the project is donor funded
Project Objectives: gathered from tenders and our understanding from similar situations
Expected Outcomes: may or may not be explicit in an RFP, usually describing improvements
Expected Impact: how the project improves governance, citizen wellbeing, sustainable development, PFM maturity
Organization View
Main Stakeholders: specific line ministries like the Ministry of Finance in an FMIS implementation
Directly Affected Ministries: organizations who will be implementing the solution
Involved Stakeholders: donors, oversight agencies, civil society
Logical View
Core Functionality: typically core financial management functions
Major Subsystems: such as payroll, assets, procurement, debt that should integrate with core
Functions Supported: functions like audit, transparency, decision-making
Application View
Core System: typically the core financial system, although could be more than one  system
Major Subsystems: actual applications used, can include current environment contrasted with future
Supported Applications: supported by systems like portals, dashboards
Integration View
To: the systems to which the systems provide information
From: the systems to which the system receives information
Type: the integration method like API, web services, RPC, flat file, database, ETL, screen scraping
Information View
Systems and Subsystems aligned with the Application View
Data Migration shows data coming from systems to be replaced
Information Sources for data, metadata, task management, controls, organizational structure
Technology View
Presentation Layer: user interfaces to be supported
Business Logic Layer: Application servers, middleware, programming languages to be used
Data Layer: actual databases to be used
Project View
Coordinate with a single project view
Identify dependencies within views and across views
Align projects with high government, donor, line ministry, and project goals
Generate game plans, agile boards, and traditional project plans
Topics