Human Capital Challenges of Government Digital Transformation
FreeBalance was fortunate to provide insights into government digital transformation at the recent Tech Hub Islands Summit at which three important questions were considered. Our views on each can be found in this three part blog series:
Change Management for Government Digital Transformation
Putting Civil Servants at the Forefront of Digital Transformation
There have been numerous digital technology failures in government and often the primary cause has been to assume that these projects are about technology, rather than people.
At FreeBalance we believe that the implementation of a Financial Management Information System (FMIS) is more about people than technology.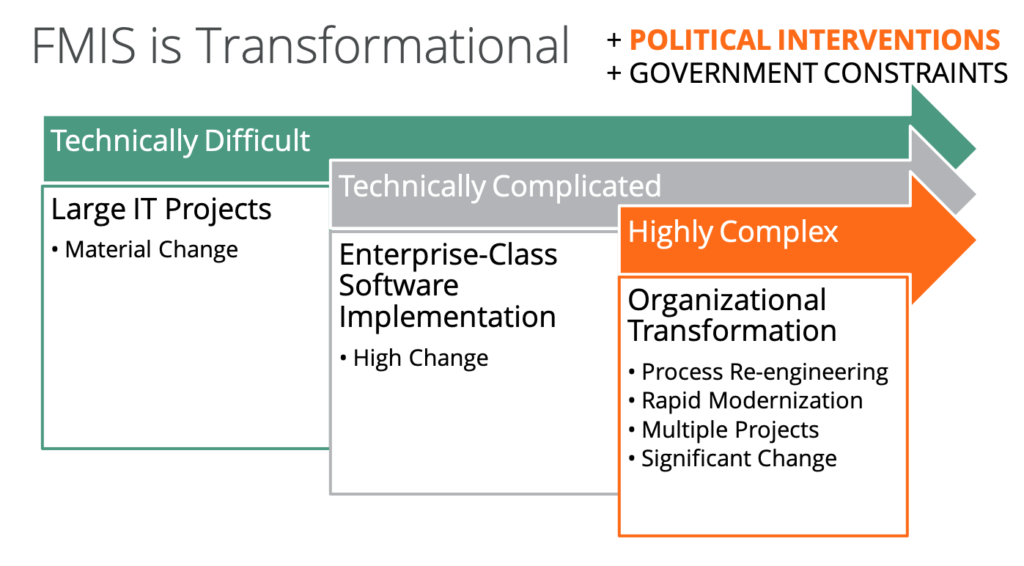 Governments succeed in transforming digitally when they recognize that digital is about process transformation. It transforms internal and external service delivery. When done correctly, digital initiatives empower public servants. That's why organizational change management is so important, particularly in government where there are so many stakeholders.
Critical organizational change practices that should be implemented include:
Change agent empowerment by government leaders
Communication of how initiatives improve mission and empower public servants
Engagement of public servants, civil society, and business stakeholders
Feedback with potential users, and frequent workshops
Transparency about the process
Quick wins to reduce change resistance
Further reading:
Organizational Change Management and Government Digital Transformation
Change Management in Emerging Economies
Organizational Change Management in Large IT Projects

New Business Models. New Technologies. Better Service Delivery. Improved Citizen Wellbeing.
What will it take for governments to break free from old business models and accept new technologies to improve service delivery for citizens? Well, it must be remembered that like corporates, governments only improve what can be measured.
While service delivery efficiency and satisfaction can be measured, this often met with resistance because of the fear of downsizing. Therefore, a change management approach should be used. What works well is to start small, but think big. The "big bang" approach of introducing a number of technologies across government should be avoided.
Cross functional and cross departmental teams can help to break down the information silos. A citizen-centric approach is necessary to see government services in different ways. Many governments start by looking at service delivery for life events like birth, marriage, or starting businesses.
How to Leverage Digital Transformation Gains
Many governments intensified their digital transformation initiatives in response to the pandemic. However, this momentum is at risk of being lost. To overcome this, governments should quantify the value of these initiatives, which would have the added benefit of encouraging further digital adoption, particularly around areas such as:
Citizen and civil service satisfaction
Service delivery efficiency and productivity
Cost and error reduction
Revenue mobilization
The FreeBalance Accountability Suite™ provides much of this kind of data to encourage further reform.

The FreeBalance A-i3+qM methodology includes numerous change management processes.

Topics