Why Do Large IT Projects Fail?
This blog is the 2nd in a 5 part series:
There are many large project IT failures in government particularly with Enterprise Resource Planning (ERP). Although the government context adds difficulty to making IT projects successful, many large private sector projects also have trouble achieving IT goals.
Large projects where the labor costs exceed $10 million have a much high failure rate than small projects
Government implication: many IT projects, particularly those that attempt to cover entire national governments would be considered large, especially when the cost of civil servants is included. New methods of government procurement are required to move away from "big bang" to more modest projects in government.
Projects using traditional waterfall methods of project management have a higher failure rate than those using agile
Government implication: Most government IT projects are derived from complex RFPs where design and implementation are expected to adhere to strict schedules – in other words – waterfall. The movement to agile requires new methods of government procurement.
Organizational change management requires Executive Sponsorship
Government implication: it can be interpreted that "executive sponsorship" and "user involvement" are aspects of organizational change management. It is only through executive sponsorship that IT projects are legitimized. And, user involvement is a critical factor to overcoming change resistance.
Poor success rates with ERP
According to Panorama's independent ERP research over the years, overall project costs have decreased while the percentage of respondents experiencing cost overruns has increased. Duration overruns, on the other hand, are becoming less common, while overall duration has increased. The duration increase is not necessarily a bad sign as organizations appear to be planning for longer durations and have more realistic expectations about what it takes to achieve ERP success.
Panorama, like many observers sees the relationship between code customization and failure rates.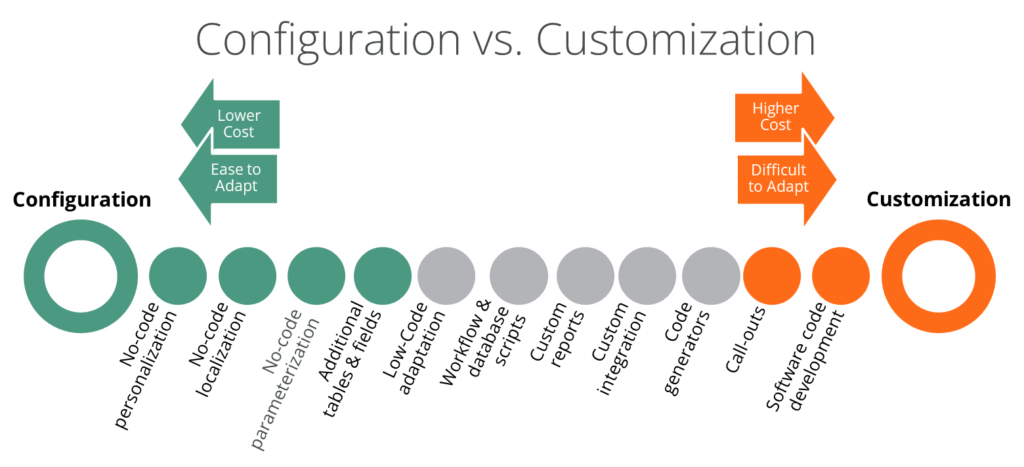 Government implications: ERP was originally designed for the private sector, so there tends to be more customization required for the public sector. That's why products designed for the public sector, like the FreeBalance Accountability Suite™, reduces risk.
Focus on organizational change management is critical
Government implication: Change management is often underfunded in large projects. This is short-term thinking because any investment in effective change management pays dividends by reducing resistance and increasing likelihood of adopting new and more efficient process.
Conclusions
Consider the observations under a change management lens:
Small projects tend to be less frightening and gather less user resistance
Agile projects tend to incorporate user feedback in the process, a good change management exercise
Executive sponsorship and user involvement are considered part of good change management
Highly customized systems tend to occur when there is change resistance because users want the new system to work like the old system, good change management eliminates this anchor
Incremental expense of up-front and on-going change management dramatically reduces project risk
Topics