Government digital transformation is much more than optimizing existing processes. It's not about analog thinking, as described in the What is Digital Transformation blog post earlier this week. extent of organizational change required for government organizations to digitally transform seems overwhelming. Why do government leaders spearhead deep and disruptive organizational change? How does digital drive change?
Nexus of Wicked Problems
Government organizations are at the nexus of societal "wicked problems", or "social mess". The social mess, as described by Robert Horn, includes the following characteristics:
No unique "correct" view of the problem
Different views of the problem and contradictory solutions
Most problems are connected to other problems
Data are often uncertain or missing
Multiple value conflicts
Ideological and cultural constraints
Political constraints
Economic constraints
Often a-logical or illogical or multi-valued thinking
Numerous possible intervention points
Consequences difficult to imagine
Considerable uncertainty, ambiguity
Great resistance to change
Problem solver out of contact with the problems and potential solutions
Governance Opportunity in Social Mess
The disruption of consumer and business markets by digital giants like Amazon, Apple and Google threatens public sector organizations. What is the place of government in the digital world? Institutions threatened with irrelevance seek out different perspectives.
There's nothing that represents a "wicked problem" more than the 17 global Sustainable Development Goals (SDGs). The SDGs are interrelated, providing governments with potential positive network effects. Where can government start?
Government policy opportunities and challenges can be visualized.  We've adapted  PEST analysis for governments contemplating digital transformation. We call it GESCED for Governance, Economics, Socio-Cultural, Environmental and Digital. In our view, digital is at the centre of problem solving. This nexus is more government-focused than the "Nexus of Forces" derived by technology analysts Gartner, because it's more than the impact and interplay among technologies like social media, cloud, mobile and information. GESCED analyzes how technology is part of the problem, and part of the solution.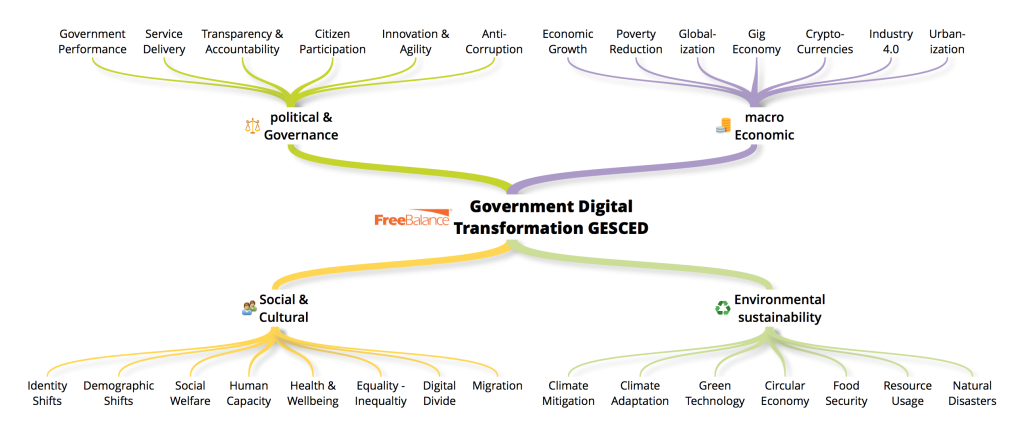 This analysis from the FreeBalance Strategy and Innovation Group is part of our preparation for the FreeBalance International Steering Committee (FISC) and FreeBalance Ministers' Roundtable (FMRT) in March. Our exclusive focus on government, and the customer-centric business model, drives us to create anticipatory tools. We also share this analysis with governments who are not customers as part of our mandate as a social enterprise. (Just add a comment to blog entries if you want to learn more.)
These elements interlink. Some are digitally-driven where emerging technologies act as change agents. We've found that digital has significant impact for governance. Here are our preliminary GESCED themes for FISC and FMRT:
Governance Implications
(political & governance)
Economic Implications
(macroeconomic)
Social and Cultural Implications
Environmental Implications
(environmental sustainability)
Policy-makers use the GESCED to SDGs alignment in long-term planning and program prioritization.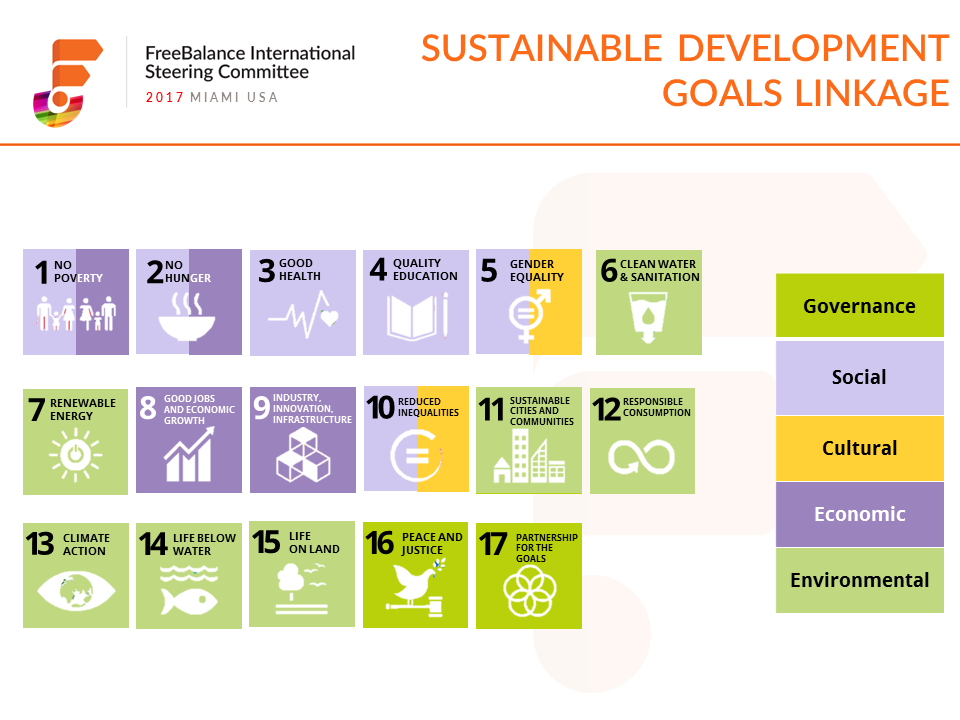 Topics