Evaluate Government Resource Planning Technology to Improve PFM Results
What's really needed for government resource planning effectiveness? Information technology support for PFM:
Fiscal transparency through reporting and budget portals 

Functional comprehensiveness across the budget cycle 

Non-functional capabilities like reliability, usability, and performance 

Interoperability, or seamless integration, across all GRP systems and subsystems 

Robust ICT practices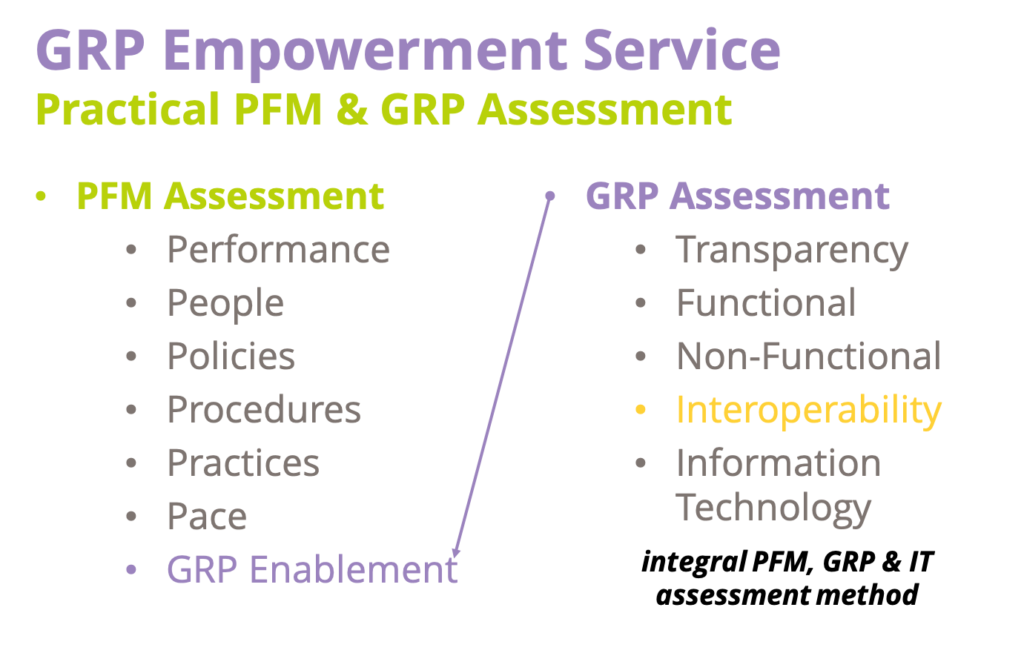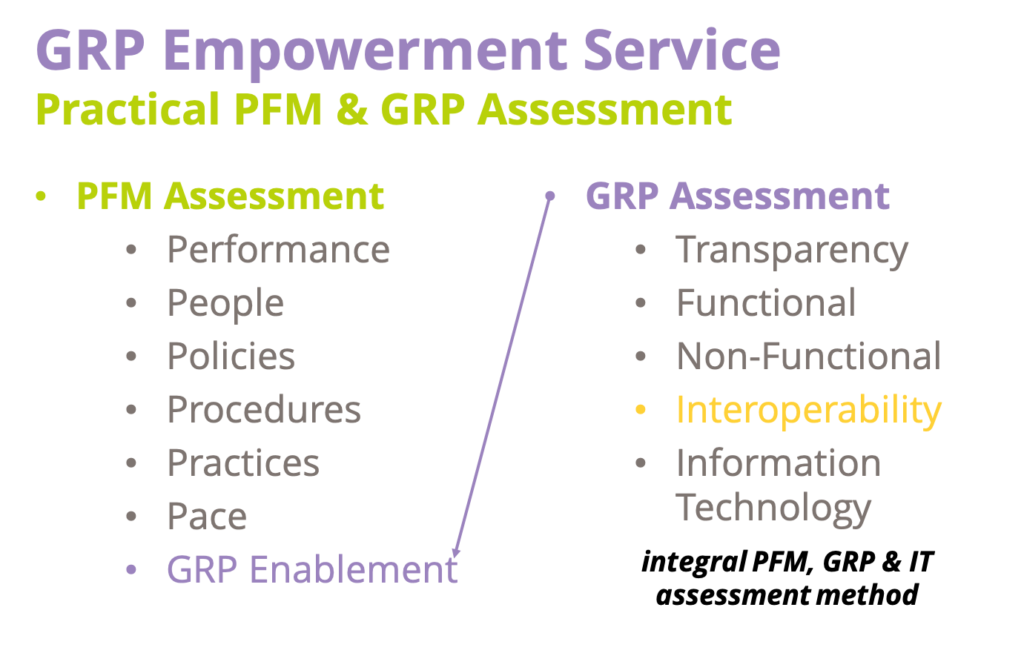 The good news for government is the availability of the FreeBalance GRP Empowerment advisory service for any government:
Identifies PFM and GRP opportunities for improvement  

Uncovers risks that should be mitigated 

Analyzes capability maturity and opportunity to improve capacity and procedures 

Aligns needed ICT support to meet PFM reform plans and improve Public Expenditure and Financial Accountability (PEFA) ratings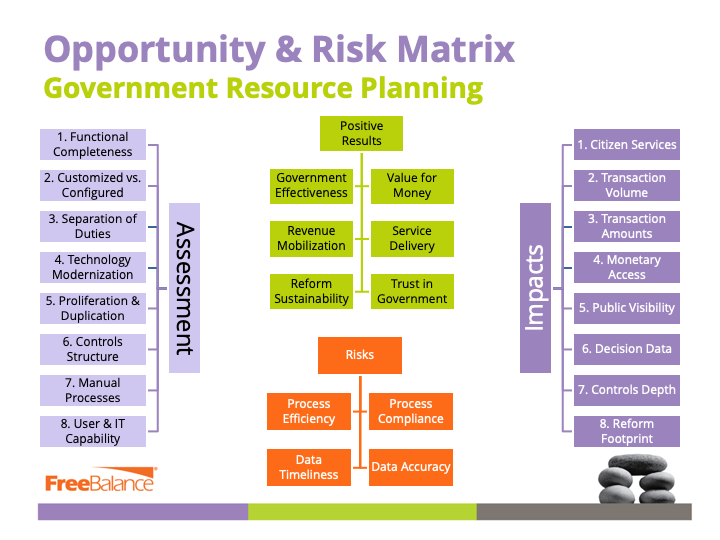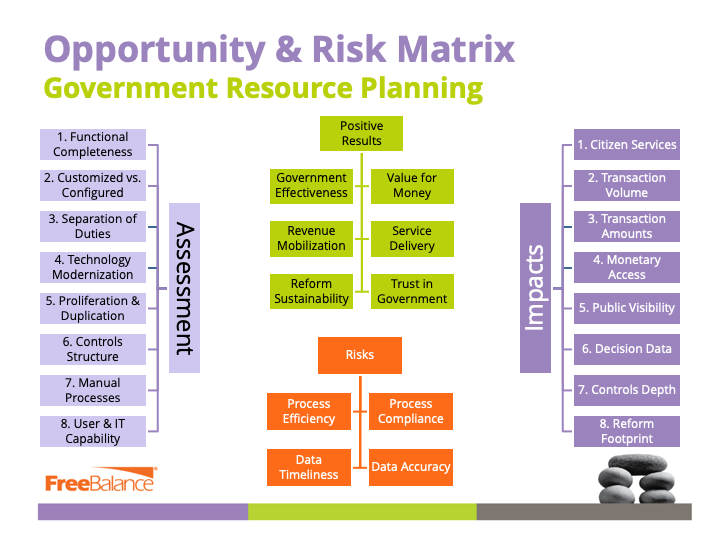 Unlike traditional PFM diagnostic tools, this service deeply analyzes technology. From the PFM perspective.
An alternative view is that diagnostics should be "technology neutral". Our view has some nuanced differences. We believe that diagnostics should be "technology neutral" but not "technology agnostic":
How capable of updating to meet future PFM reform needs? 

How modern & what risks come from use of legacy ICT? 

How open to provide equipment, middleware, and database choice? 

How interoperable to automate decision-making dashboards, and transparency portals? 

How expensive to maintain and support?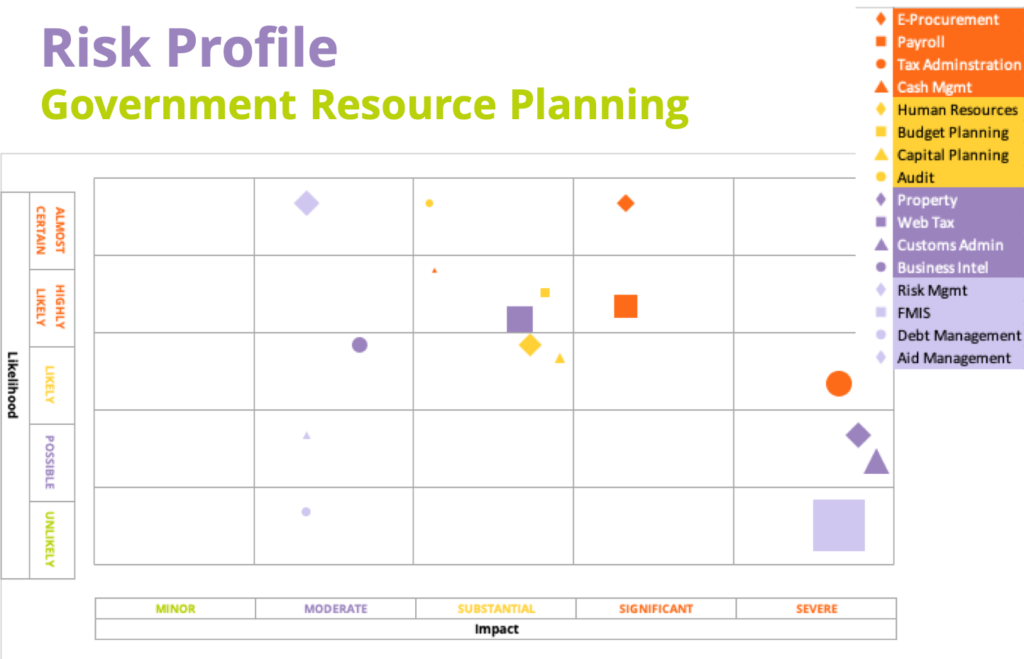 As a social enterprise with the mission of improving PFM globally, we believe in leveraging government investments. We will not recommend replacing existing software with the FreeBalance Accountability Suite.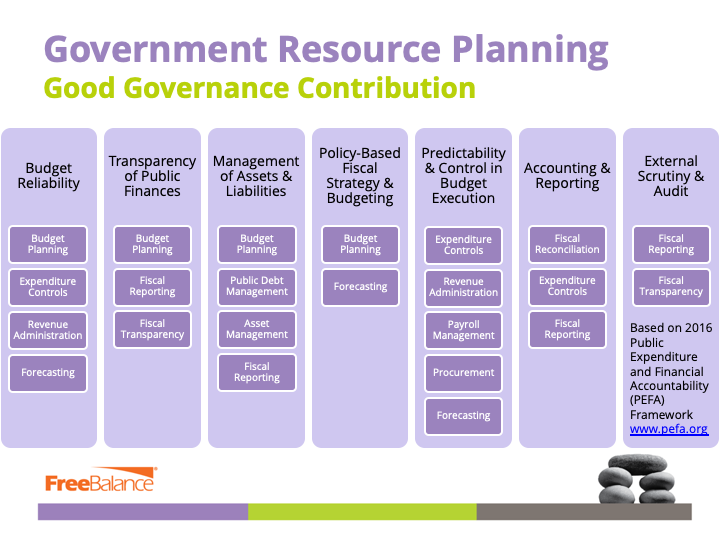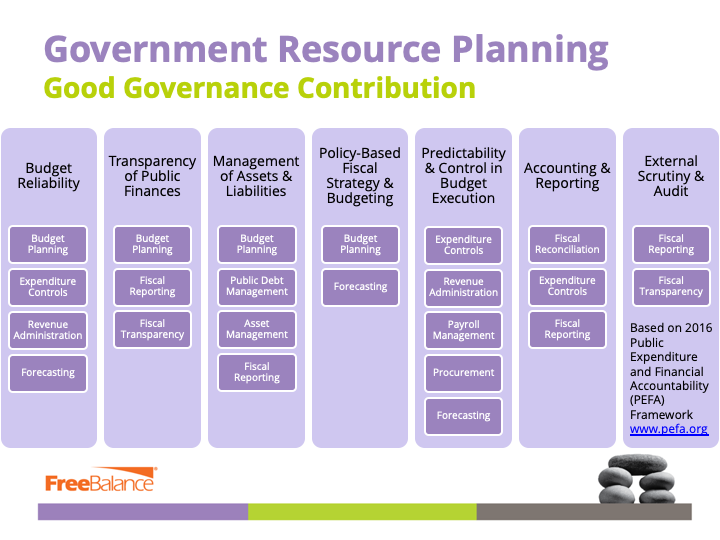 What is different?  Our understanding of interoperability needed for effective PFM across all systems:
Metadata management, particularly the support for budget classifications 

Consistent budget and commitment controls including segregation of duties 

Organization structures for assets, approvals, and responsibilities assigned to public servants 

Performance management for procurement value-for-money, and civil service effectiveness tied to national development strategies 

Interface and integration good practices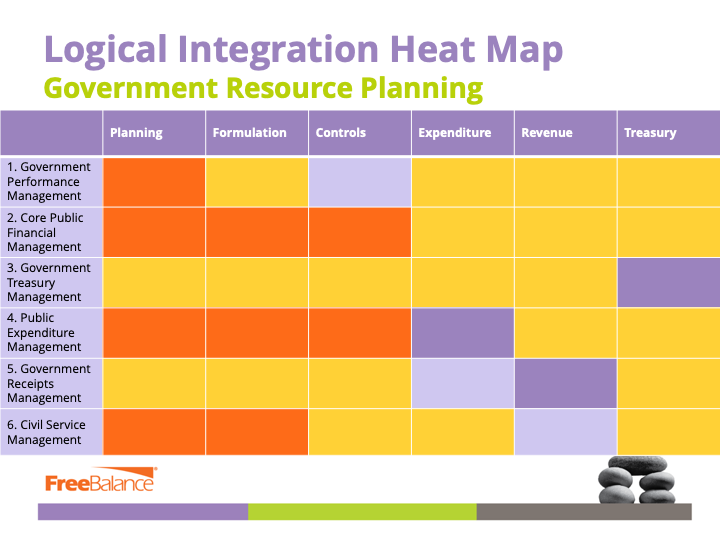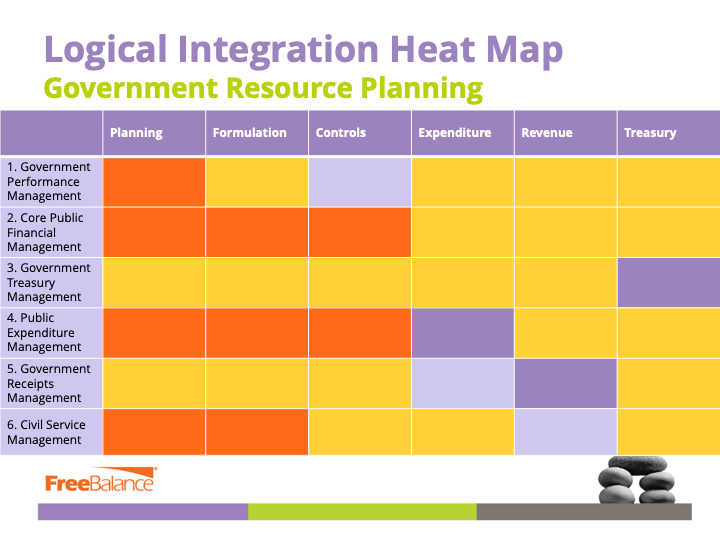 Deeper Dives
Success Blueprint post from 2018  describing an associated services covering:
Country, Government, Project, and Vendor contexts
Risk and Success Diagnostics (shared with the GRP Empowerment Service)
Implementation Lifecycle
Agile vs. Waterfall process checklist
Governance Framework post from 2013 describing the framework that led to the GRP Empowerment Service
GRP technology used to automate financial functions in government
provides a set of tools: controls, front-office, decision making
that are leveraged by institutions whose capabilities can improve or reduce effectiveness
that has positive or negative effects that are exposed in measures like credit ratings or corruption perception
that are used for important composite indicators like World Governance Indicators
that, with other indicators, show governance outcomes such as economic growth or educational improvements
Topics