In the latest of a series of posts reflecting on October's IMF/World Bank annual meetings in Morocco, we share key takeaways and observations on the topic of public investment management.
Polycrisis or permacrisis?
Listening to the wide range of speakers across the week-long event brought to mind the joke about the pessimist and the optimist:
Pessimist: "things are very bad"
Optimist: "it's going to get much worse".
And both parties would agree on the key conclusion: much-needed social support is being constrained by high public debt in many countries.
Furthermore, lurking on the horizon are more complicating factors:
Climate disasters
Crumbling infrastructure
Sustainable Development Goals (SDGs) which, at present, seem unreachable.
We've written about how digital Public Financial Management (PFM) can reduce debt and improve social support in previous articles: in short, we need to do more with less. But what about addressing long-term resilience? How do we collectively ensure that countries around the world are ready for unexpected challenging situations, rather than reacting after the fact each time?
This is particularly important because these lurking risks are not disconnected from the current global crisis situation. In fact they are intertwined.
What are the critical public investments for resilience against future crises?
Preparing for future crises means reducing existing infrastructure gaps. Climate adaptation, climate mitigation, "build back better", and "smart" infrastructure all lead to sustainable development. Among the public investment management contributions to the United Nations Sustainable Development Goals (SDGs) are:
Clean water and sanitation (SDG 6)
Affordable and clean energy (SDG 7)
Decent work and economic growth (SDG 8)
Industry, innovation and infrastructure (SDG 9)
Sustainable cities and communities (SDG 11)
Climate action (SDG 13)
Life below water (SDG 14)
Life on land (SDG 15).
Yet, there is significant underinvestment which, according to Reuters quoting the IMF, runs in the trillions of dollars annually:
Of the $5 trillion in annual investments needed globally by 2030 to meet net-zero emissions goals, $2 trillion will need to be made in emerging markets and developing economies.
The IMF's GFSR estimates that the private sector will need to provide about 80% of these investments. This share rises to 90% when China is excluded, due to Beijing's ample state resources.
The Fund's Fiscal Monitor estimates that relying on public spending to fund de-carbonization investments on this scale would cause a massive, unsustainable run-up in debts, possibly to 45% to 50% of gross domestic product for a large, high-emitting emerging market.
(If this isn't enough to convince you, read right to the end of this post for our collection of discouraging numbers.)
What are the more encouraging numbers?
According to the IMF, a 1% increase in infrastructure investment leads to a 1.2% increase in GDP growth within four years.
The average net benefit of investing in more resilient infrastructure in developing countries is $4.2 trillion globally, with $4 in benefits for each $1 invested, says the World Bank
The World Bank suggests that public investment in infrastructure can have a "multiplier" effect (meaning measurable economic impact for each dollar of government spending), and that this effect is particularly high in the case of periods of crises.
Bottom line: more funding is needed for public investments, but almost equally, the quality of public investments need to improve.
This is important because the IMF estimates that countries waste anywhere from 30 to 50% of the money spent on infrastructure:
53% in low income countries
34% in emerging economies
15% in advanced economies.
Reducing this wastage and improving the quality of the resulting infrastructure through better investment practices will help build resilience and reduce the impact of all kinds of crises.
How can digital PFM help?
Governments and private sector partners have invested in capital projects for centuries, whether this has been for aqueducts, schools, railways, motorways, airports, or telecommunications.
Regardless of whether the end result is a bridge or a better broadband service, effective PFM improves small to large public investment quality.
We also know that using digital Government Resource Planning (GRP) systems optimizes public investment quality across all 15 elements of the Public Investment Management Assessment (PIMA) Framework.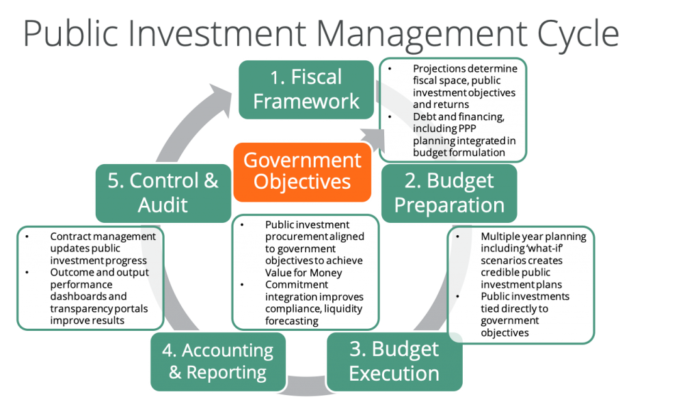 Effective PFM supports the public investment management budget cycle by:
Aligning government infrastructure and social investment objectives directly to budget preparation
Analyzing debt and financing requirements for credible budgets
Planning contingencies based on risks and scenarios
Integrating government objectives directly into Value for Money procurement methods
Tracking output and outcome results through contract management integrated with SDG reporting
Reporting procurement, output and outcome information transparently.
Why is this important?
Implementing effective PFM measures is important for two reasons:
Effective PFM, as rated by Public Expenditure and Financial Accountability (PEFA) assessments is associated with quality public investment management
Governments need to optimize investments from the Multilateral Development Banks.
Further, effective digital procurement tracks full lifecycle costs, including estimates for energy consumption. This enables further improvements so that public lighting, energy, transportation become green, data centres and cloud computing move towards net zero, and the Internet of Things (IoT) helps to track consumption and demonstrate progress. This data helps to improve future public investments, particularly in forming Value-for-Money calculations.
Of course, not everything is about digital. Policy changes help overcome perverse incentives.
What is the public investment gap?
Wondering how we get from where we are to where we want to be? Here are some of the references that we've collected over the years:
To stay up to date with our latest summaries of key developments in public financial management, subscribe to our newsletter
.
Topics