How to Activate PFM Reform and Modernization
A war, pandemic, COP-26 and natural disaster 'wake-up' calls around the world. Public sector resilience certainly is being tested.
Given that government is clearly at the nexus of having to fix the world's "wicked problems"1 it is tempting to tout PFM reform and technology modernization in government as the silver bullet cure all. There's no question that reform and modernization are part of the toolkit that finance ministries can use to improve resilience. However, they are only two pieces of a seven piece puzzle.
Key PFM Resilience Opportunities
1. Fiscal Policy Modernization
Adopting a modern approach to fiscal policy by, for example, embedding Happiness Economics, would extend the benefits of good Public Financial Management (PFM) beyond economic measures to the elements that citizens really value2.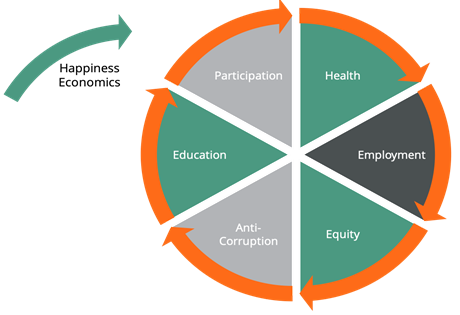 SDGs and Wellbeing – There can be no further delay. The Sustainable Development Goals (SDGs) and citizen wellbeing4 have to be embedded into policy and budget classifications.
This would:
Improve outcomes by aligning policy to what citizens value (wellbeing) integrated with a multiple-year focus (SDGs) because results take time.
Improve resilience by enabling budget reallocation during crises based desired policy outcomes.
As shown below the SDGs can easily be aligned with budgeting through the program segments of the Chart of Accounts.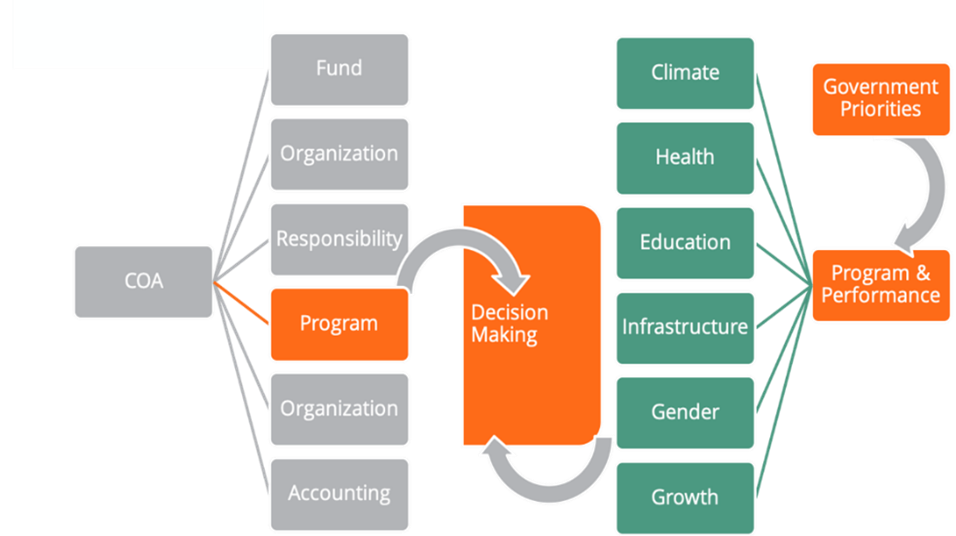 National and Sectoral Strategies should be included in both the budget formulation and implementation phases. This would:
Improve outcomes by aligning budget allocation to policy priorities.
Improve resilience through more effective social and infrastructure public investments enhancing social support, climate adaptation, and logistics capability.
Policy Costing – Proposed policies need to be properly costed out by finance ministries5 and these figures used when formulating budgets. This would:
Improve outcomes with finance ministries showing cost-benefit impacts for policy decisions to improve budget allocation quality.
Improves resilience with finance ministries able to forecast crisis impacts for more effective reallocation.
Fiscal Decentralization needs to be ramped up and fully implemented for accounting and budget execution functions. This would:
2. Risk Management Modernization
As the World Economic Forum's Global Risks Report shows, the risks faced by humanity are growing. And the potential social, environmental and economic costs of these risks is growing too. Now more so than ever, risk management needs to be included in budget formulation. Planning for expected fiscal shocks helps to improve resilience.
The inclusion of Contingencies in approved government budgets improves resilience by setting aside funds for potential fiscal shocks, while tracking Contingent Liabilities in budgets and report improves resilience by accounting for risks and making short to long-term risks fully visible. Taking out Risk Insurance improves resilience by reducing debt payments during uncontrolled fiscal shocks like natural disasters.
The pandemic massively escalated the move online in both the public and private sector. The future is definitely digital and unfortunately governments tend to lag in this important aspect.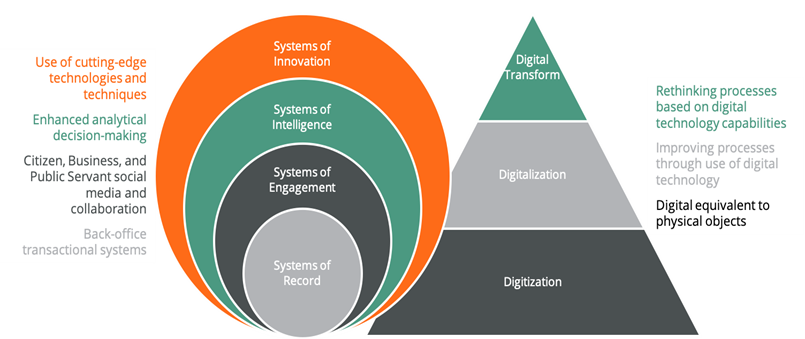 | | | | |
| --- | --- | --- | --- |
| Systems of Record | like Financial Management Information Systems (FMIS) that interoperate with all fiscal subsystems will show revenue and spending impact and enables spending reallocation and process acceleration by program, project and activity | Digitization | of common manual functions, like converting paper documents into PDFs, reduces government and citizen costs during crises |
| Systems of Engagement | like mobile applications and social media integration will enable 2-way citizen communication to learn about problems while providing advice | Digitalization | of government processes, like automating procurement processes, accelerates needed spending while supporting needed controls during crises and trust in government anti-corruption efforts |
| Systems of Intelligence | like big data analytics will enable early disaster early warning | Digital Transformation | of government processes by thinking digital-first and citizen-centric, improves citizen experiences and trust in government effectiveness |
| Systems of Innovation | like agile development leveraging mobile, blockchain and other leading-edge technology – enables rapid development of needed government applications during crises | | |
Both the Digitization of Government Artifacts and the Digitalization of Government Processes / Services improve outcomes by reducing government costs and increasing revenue and improve resilience by enabling the creation of new digital services during crisis situations.
This digitalization would also improve the Customer / Citizen Experience (CX) of government services which would deliver improved outcomes through improved and simplified digital experiences that increase revenue and support social spending. This would in turn increase resilience by optimizing the effectiveness of new digital services created during crises.
The implementation of single view eServices across all government organizations would:
Improve outcomes by reducing citizen costs and simplifies service delivery.
Improve resilience during crises through a single window for all necessary support services across all Ministries, Departments, and Agencies (MDAs), including different government tiers.
Perhaps the most important aspect of digital transformation in government is the adoption of an agile mindset. As we have seen in the pandemic, the ability to deliver net-new applications (e.g. contact tracing, emergency payments) is critical.
This kind of Agile Governance would include techniques such as agile project management (problem-driven, design thinking, etc.) and agile procurement (quick iterative phases / prototypes and experiments with vendors to come up with innovative solutions that can be delivered quickly, cheaply and effectively).
4. Data Modernization
Data modernization talks to maturing one's approach to data management to create a data driven public sector that integrates governance, public value and trust6.
Integrated Metadata across financial systems improves outcomes and resilience by providing timely and accurate "single version of the truth" to decision makers at all times, in real time.
An integrated IFMIS includes Monitoring and Evaluation for all projects which improves outcomes by tracking spending results and improving future spending value-for-money and improves resilience by tracking spending during crisis situations.
Big Data Analytics improves outcomes by combining structured, unstructured, and activity data from internal and external sources supporting more effective government decisions and improves resilience by providing early warning for decision-makers.
Evidence Based Decision Making improves outcomes by showing what works to achieve government objectives rather than theory or dogma and improves resilience through timely and accurate data enabling decision-makers to contrast the real situation during crises with perceptions.
5. Trust Reform
Erosion of trust in key institutions in both the public and private sectors continues unabated and urgently needs to be addressed.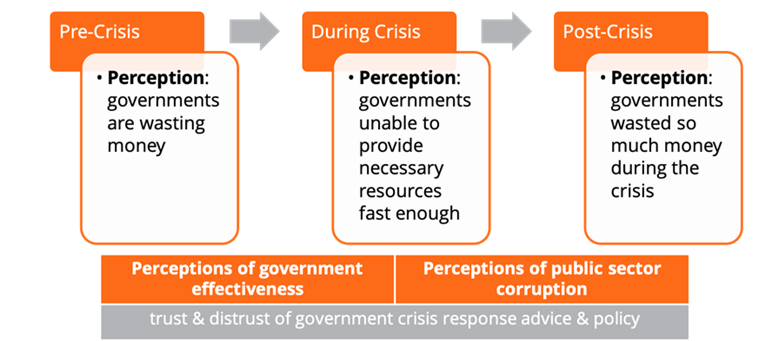 Transparency is the antidote to distrust and can easily be promoted through dashboards and transparency portals linked to the government's IFMIS. Demonstrating Fiscal Transparency and International Public Sector Accounting Standards improves outcomes by increasing accountability and improving credit ratings and improves resilience as revenue, debt and spending transparency enhances trust in government.
Other avenues that governments could explore include:
Social Media Engagement

Improves outcomes by generating buy-in for government programs
Improves resilience through effective crisis communications on the platforms that citizens use

Participatory Budgeting

Improves outcomes by adjusting policy to citizen and community values
Improves resilience by building-in crises concerns into budgets and communicating the need for contingency funds and public investments

Civil Society Public Finance Education

Improves outcomes through social audits and partnering on social programs
Improves resilience by mobilizing civil society during crisis situations
Supporting Reforms
6. PFM Reform
To support the changes listed above governments should look to advance their PFM reform journeys by implementing:
Program and Performance Management to support:

Fiscal Policy Modernization

By aligning policy, budgets, and spending across MDAs

Risk Management Modernization

By budgeting for risks across all government organizations

Data Modernization

By integrating revenue, spending, and performance systems

Trust Reform

Through results-based budgeting that demonstrates government progress

Accrual and Cost Accounting to support:

Risk Management Modernization
Trust Reform

Through more accurate and complete financial information not available in the cash-basis of accounting

Program Budgeting which helps to coordinate MDAs to achieve government goals

7. Technology Modernization
Certainly, the modernization of technology would form part of a government's digital transformation program and would include:
Infrastructure Modernization to support:

Digital Transformation through new technologies such as augmented reality, blockchain, low-code/no-code, machine learning and Robotic Process Automation
Data Modernization by integrating information from multiple sources
Trust Reform through automatic support of social media platforms

Financial System Interoperability to support:

Data Modernization by integrating transactions between front and back-office financial management functions
Trust Reform through automatic real-time fiscal transparency
PFM Resilience Conclusions
PFM systems support crisis resilience by articulating national priorities that are aligned with citizen wellbeing and the SDGs, and reflect these desired outcomes in program budgets by leveraging tags and classifications. In addition, the monitoring and evaluation functionalities within the system provide early warnings of future crises.
This level of automated fiscal transparency results in increased trust in government and improved credit ratings. Furthermore, improved outcomes increase fiscal space for crisis situations and provide funding that can be used for counter-cyclical spending.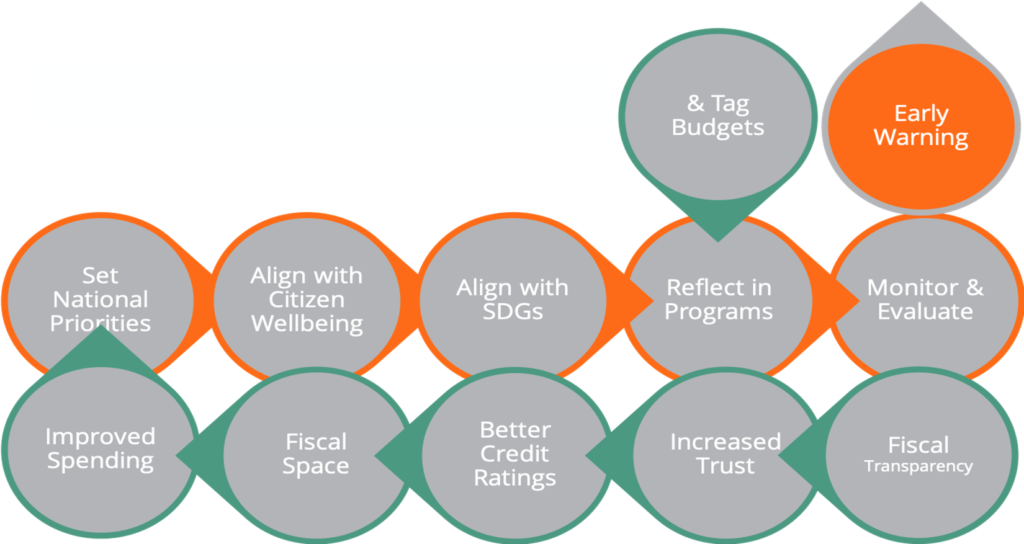 .modal-title { margin-top: 0px !important; }
Topics