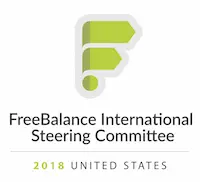 Emerging digital governance patterns, and the Sustainability Development Goals (SDGs) were the major themes from 2018 FreeBalance International Steering Committee (FISC) conference, last month in Miami.  I've described how FISC operates in a completely different way from traditional enterprise software vendor events. [Also see appendix below].
My sense is that leading software manufacturers believe customers hold back innovation. You know, the old quote improperly attributed to Henry Ford: "If I had asked people what they wanted, they would have said faster horses."  That's often the disdain exhibited by larger software manufacturer staff to customers.
The Future of Government and Digital Governance
We believe in customer innovation. That's why FISC is future-focused. Unlike traditional vendors, FreeBalance customers change our product roadmap. FISC isn't about selling. It's not a sales shindig. It's about governance trends. FISC is a mix of FreeBalance presentations on emerging trends, with relevant external speakers. There is a products and services update every year so that our government customers can see their impact on our roadmap. We achieve customer innovation through interaction and engagement. This included 3 governance workshops, 3 product and service roadmap workshops, interaction built into presentations, and interaction during meals and social events. That's full time interaction with FreeBalance product, innovation, and services executives. (There are no salespeople at FISC.) This gives us a deep context on emerging government needs.
We seek to achieve perspective at FISC. To share governance, public finance, process and IT lessons learned. Discussion of the policy linkage to public finance was enhanced with our customers participating in the wellbeing-focused H-20 government track of the World Happiness Summit. "The H-20 Government Meeting is an invitation-only roundtable dialogue uniting global government leaders, economists, academics, activists and researchers to cross-pollinate and focus on improving the well-being of societies and nations, and is designed as a discussion of best practices, challenges and policies around increasing civic happiness. Just as the G20 Summit focuses on strengthening global economies, the H-20 gathering ambitiously focuses on raising the global quotient of happiness." (FreeBalance is an H-20 sponsor, active in putting together the agenda in 2018 and facilitating invitations, as part of our corporate responsibility mandate.)
Our digital governance workshop session were the hit of FISC 2018. The program this year stated: " The 12th Annual FISC will provide insight into leveraging Public Financial Management to achieve the Sustainable Development Goals (SDGs). PFM is the core to effective Public Investment Management and sustainable and equitable development. Attendees will engage FreeBalance executives in the adjustment of the product roadmap in the context of public investments." The workshops highlighted how digital governance transformation represents a tipping point in IT project management.
This might seem a bit odd for those who see FreeBalance as a "software manufacturer". Yes, we build the FreeBalance Accountability Suite. Unlike traditional vendors, we are primarily a government governance provider. This includes needed advisory, implementation, and sustainability services. We believe that customer-centric means involvement in all FreeBalance implementations to improve outcomes.
The Digital Governance Tipping Point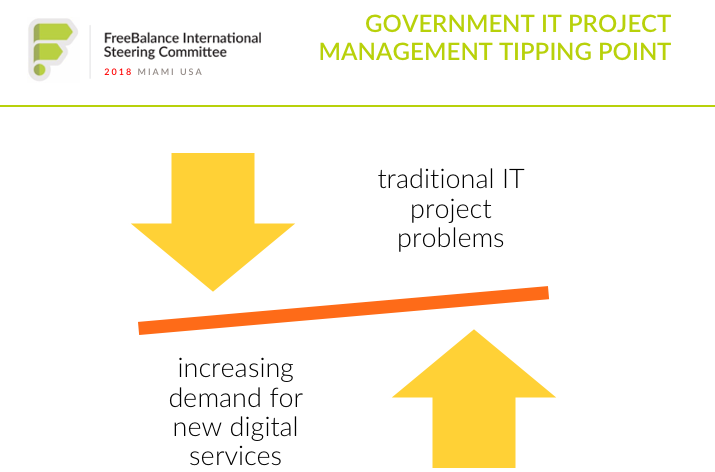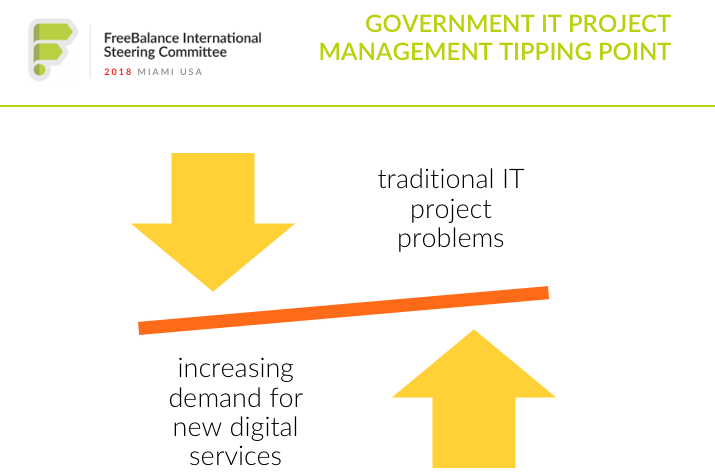 Governments are experiencing problems implementing legacy enterprise software applications, like Tier-1 Enterprise Resource Planning (ERP), using traditional project management "best practices". How can governments expect to achieve digital governance outcomes using practices that are ineffective in legacy technology? We need to learn about what works for the Internet giants, the web platform vendors. And, we need to adapt these agile techniques for the government context. Government is different. Especially in organizational change management.
We tested this assumption with FISC governance workshops adapted from agile techniques. (This is part of our updated methodology that we call A-i3+qM TM)
Agile for Digital Governance Transformation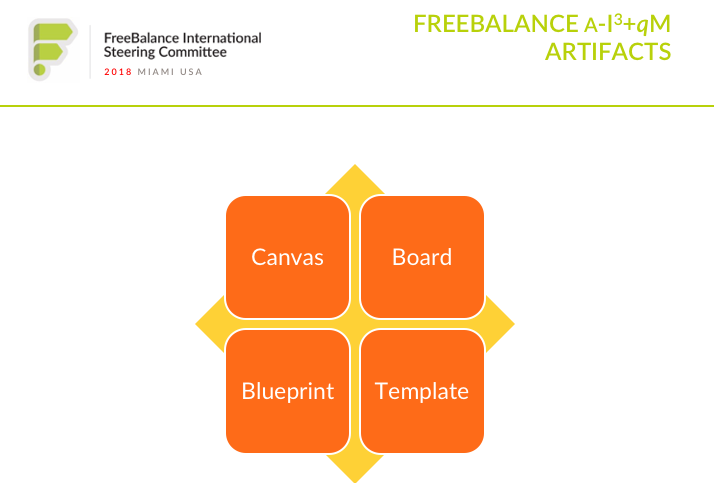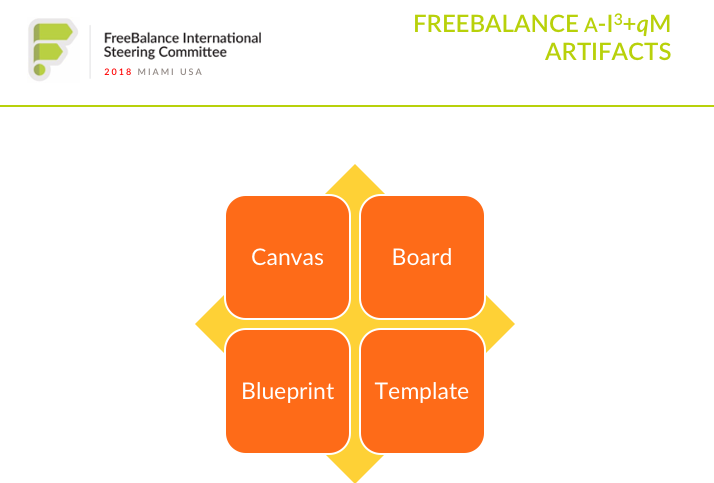 A-i3+qM TM leverages tools to achieve repeatable and measurable processes:
Canvas:  Large visible workspace, typically wall or large whiteboard in size, that can be deployed online, following a series of workshop steps for brainstorming and decision-making
Alternatively can be deployed online
Boards: Large visible workspace, typically wall or large whiteboard in size, that can be deployed online, dynamically representing on-going activities
Alternatively can be deployed online
Blueprints: Description of a FreeBalance configurations that includes business rule and workflow articulation, country-specific custom development, reports, and interfaces
Describes any country-specific custom development
Templates: Document template for creating project artifacts
Aspiration and Problem-Focused Approach
The first A-i3+qM TM oriented workshop started with articulating the country context using our adaptation of "PESTLE" analysis for government, that we call "GESCED".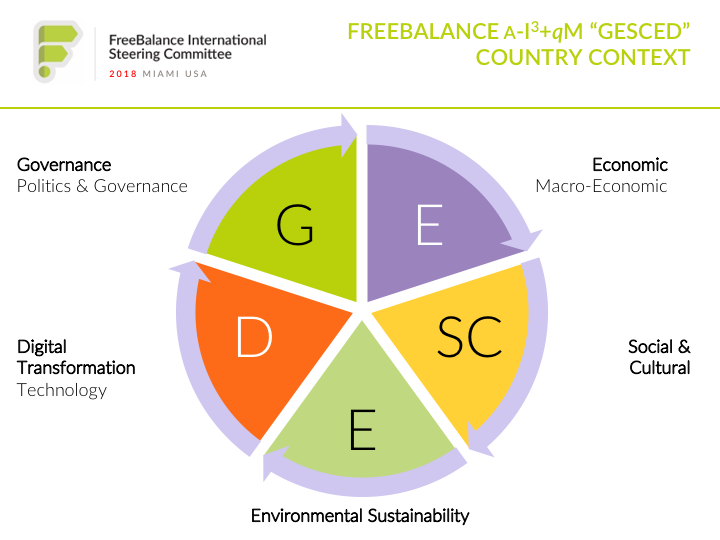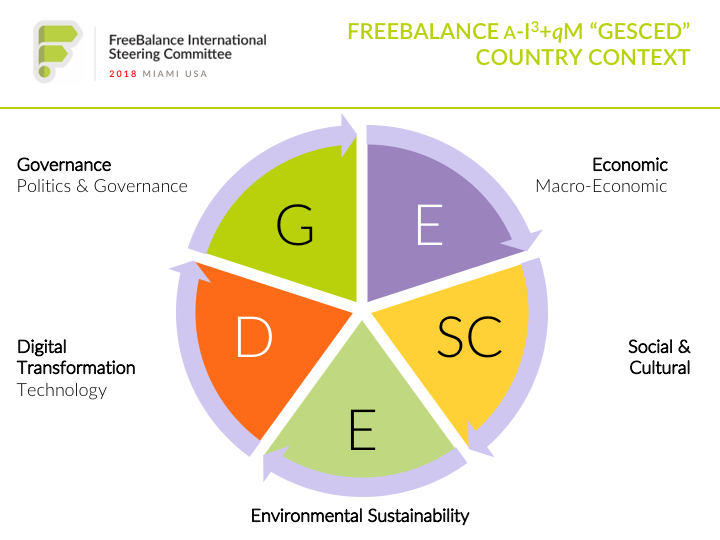 Country representatives began by articulating the context of environmental sustainability. This helped integrate with SDG 13 and climate action, one of the FISC daily topics. Most were able to complete all GESCED elements during the workshop and cluster priorities around policy themes.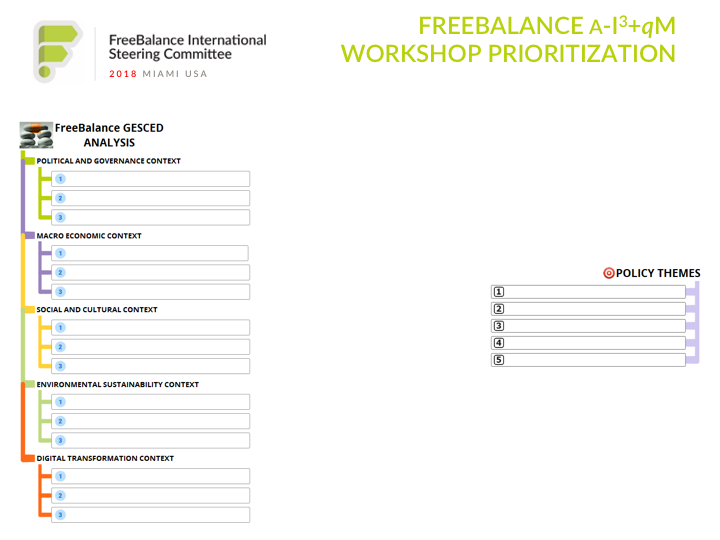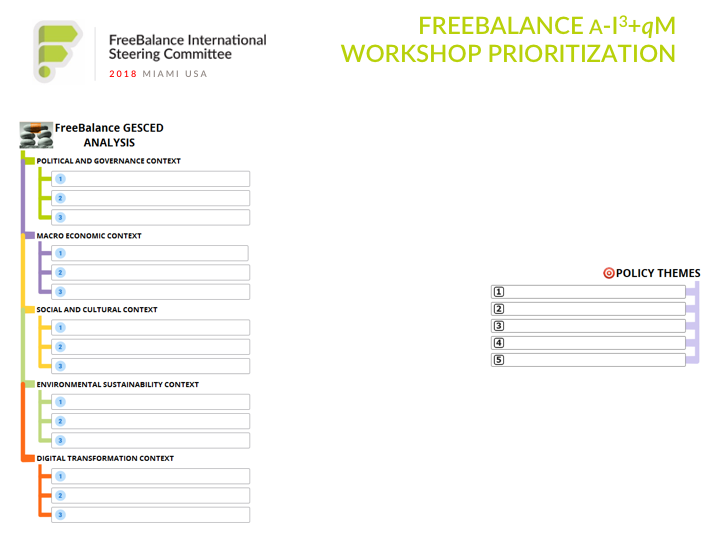 The second workshop moved forward with "design thinking" concepts by splitting the FISC attendees into groups. The groups decided on specific problems to address. Each group had a design team and 2 user teams. Low-fidelity prototypes were created and presented to all FISC attendees for comments. Some of these included process changes.
The third workshop helped teams to articulate potential returns from initiatives. The "value proposition canvas", used in the government context, was used. Groups presented ideas. Our customers were deeply engaged in the process, even those who started FISC with some skepticism.
The point behind the workshops was not to design future projects. It was to familiarize our customers with agile techniques. Many of the concepts behind agile are counter-intuitive in risk-adverse organizations like the public sector. Agile reduces risk, when exercised properly. Agile cuts costs. Agile spurns innovation.
Appendix: FISC Compared to Traditional Enterprise Software Vendor Conferences
Purpose
Traditional Conference: Selling to attendees, with some industry sessions
FISC: Learning about government futures, sharing governance lessons, with no salespeople
Costs
Traditional Conference: Paid by attendees and partners – results in profit to the vendor, especially when partners pay for keynote addresses
FISC: Paid through software maintenance on FreeBalance products (this is an ethical decision, we believe that government should not pay to help FreeBalance improve products and services, or to pay to share governance lessons)
Attendance
Traditional Conference: Anyone willing to pay can attend up to a limit
FISC: Governments select attendees, typically the appropriate government Minister, so that attendees are qualified to participate and able to share results when returning (all presentations and research material is provided on thumb drives)
Trade Show
Traditional Conference: Includes trade show booths from the company and partners to sell
FISC: No trade show, no booths, no selling (we tried this once, and found that it did not work with the FISC future-focus)
Product Roadmap
Traditional Conference: Roadmap presented to attendees who learn what features they will get, and when they will get them
FISC: Roadmap presented to attendees who vote to change priorities (we track this every year to see trends where roadmap items
Services Roadmap
Traditional Conference: Rarely a concept of services roadmap, although some major vendors are getting into this at the chagrin of systems integration partners
FISC: Roadmap includes services
Modalities
Traditional Conference: Presentations, guest speakers, partner speakers, demonstrations, trade show, some "birds of a feather" interaction
FISC: Workshops, presentations, relevant guest speakers, demonstrations
Executive Accessibility
Traditional Conference: Executives appear for presentations and answer questions, more junior executives are more available
FISC: Full access to FreeBalance strategy, product and services executives all all FISC sessions, meals and social events
Program
Traditional Conference: Company-focused
FISC: Government-focused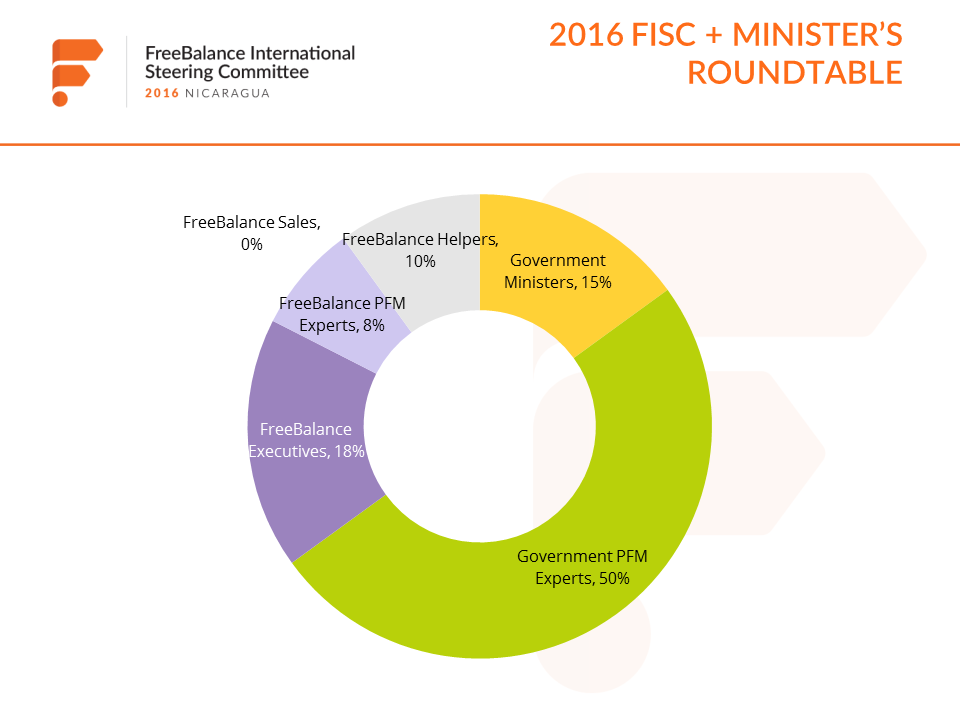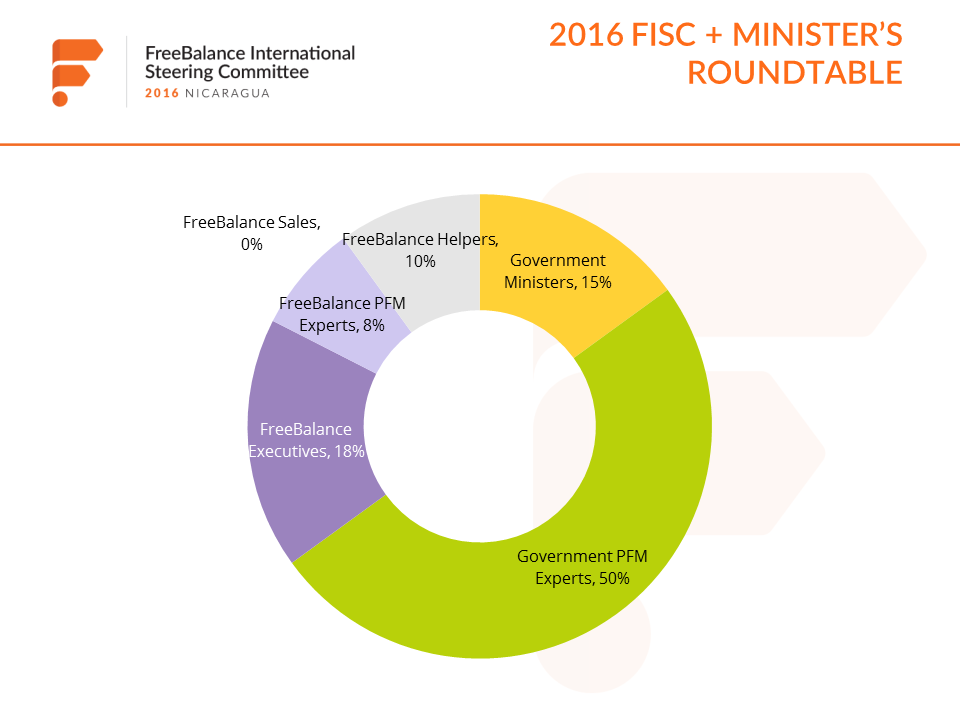 The statistics from FISC & the Minister's Roundtable in 2016 shows how FISC differs from traditional vendor conferences.
Topics